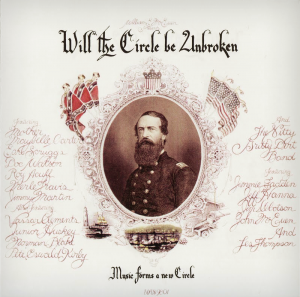 When asked what album best symbolizes the dawn of the Americana genre folks with a long memory, or a deep knowledge of music history, might choose The Band's "Music from Big Pink." Bob Dylan's once touring band released their debut in 1968 to critical-acclaim but poor sales but later historical acclaim.
Others might select the more recent roots music foray into popular consciousness, the soundtrack to "O Brother, Where Art Thou?" The Coen Brother's Depression-era, satirical ode to Homer's Odyssey provided the perfect format for singer/songwriter/producer T Bone Burnett to weld his sepia alchemy. Burnett gathered bygone era bluegrass, country, gospel, blues, and folk music and shaped a platinum-selling, Grammy-winning soundtrack that payed more than a backdrop, but played more of a sonic companion to the film/
And then someone might choose any one of Gram Parson's solo works as well as his work with The Byrds, the Flying Burrito Brothers and International Submarine Band.
All the above are exemplary works of cross-genre efforts that laid the groundwork for this mutt genre we call Americana.
My choice would be Nitty Gritty Dirt Band's "Will the Circle be Unbroken."
The Nitty Gritty Dirt Band was founded just south of Los Angeles, in Long Beach, California, by singer-guitarist Jeff Hanna and singer-songwriter guitarist Bruce Kunke. The two performed together in local bands and neighborhood jam sessions brought guitarist/washtub bassist Ralph Barr, guitarist-clarinetist Les Thompson, harmonicist and jug player Jimmie Fadden and guitarist-vocalist Jackson Browne. After a few months Jackson left for a solo career and was replaced by John McEuen.
After some moderate early career success the band their fourth album, "Uncle Charlie & His Dog Teddy,"in 1970. The album leaned more on a traditional country and bluegrass sound, and yelled the band's best-sellng and best-known single, a cover version of Jerry Jeff Walker's "Mr. Bojangles."
During a Boulder Colorado jam session, involving none other than Earle Scruggs and his band, the idea was hatched to head to Nashville to record with some of the living legends of country music. Soon after, the scruffy long-haired California band arrived in conservative to Nashville to collaborate on the album later known as "Will the Circle be Unbroken." With Scruggs help the the band recruited Roy Acuff, Jimmy Martin, Pete "Oswald" Kirby, Norman Blake and Mother Maybelle Carter.
The performances have a feeling of ease and informality , much like the jam sessions that led to their creation. Some of the greatest songs to music history by Hank Williams ("I Saw the Light," Honky Tonkin'," "Honky Tonk Blues") Jimmie Skinner ("You Don't Know My Mind,") as well as compositions by the performers themselves and well-known traditionals.
All the tracks on the album was recorded on the first or second take straight to two-track masters.As great as the music is another tape that ran during the sessions captured the colorful, enlightening, and after hilarious, dialog between the performers.
Before breaking into his "The Precious Jewel," Roy Acuff confides to his accompanying musicians his "Secret of his policy in the studio." "Whenever you once decide you're going to record a number put everything you've got into it, because..Don't say "Oh we'll take it over and do it again." because every time you go through it you lose a little something….let's do it the first time and to hell with the rest of them"
The band then goes on to take his advice and nails the rollicking weeper in one take
The band egg each other on. kid around and discuss song arrangements and origins. Then there's one-of-a-kind moments like the first meeting of folk legend Doc Watson and the equally legendary Merle Travis, after whom Doc Watson's son, Merle, was named.
The album was nominated for two 1973 Grammy awards including Best Country & Western Vocal Performance – Duo Or Group for the A.P. Carter title song. More importantly it bridged generations across geography, culture and politics and laid the groundwork for the music that reminds us of our shared heritage and nourishes our souls