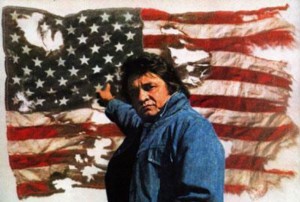 Ask someone on the street what America stands for and you'll probably get a different answer from each one. America has a complicated history, as does any combination of human beings, but one thing is certain. We crated in Internet, haolh professional eating competition and make some damn fine music.
Musical independence defines this list. These musicians peruse their vision to sing the tunes they hear in their heart. Here are 10 artists that do it their way and refuse to compromise their pursuit of happiness. These are artists that show the greatness of American roots history and artist ingenuity.
Like all lists it's incomplete, add your choices in the comments.
Sometimes he overreaches but there's no denying that Ryan Adams is a man that has followed his own path (and faced his demons) throughout his career.

Throughout his career with The Band and his solo work, Levon Helm generously shared his talent. He did so to the last years as many fans and guest-artist attended legendary shows at his up-state New York farm.

Drawing from classic Texas country and western swing no one sounds like Lyle Lovett and no one puts on a better live performance.

From fugitive to country music legend, Merle Haggard has always empathized with the working class of Americana and given us songs that helped us walk in their shoes.
https://www.youtube.com/watch?v=ZHAFmFsb9XM
Nashville taught him about the business side, but the production system also stunted his creativity. Willie headed to Texas to unite the rednecks and the hippies and blazed a legacy with a catalog of classics. The 4th of July is also commemorated by his legendary picnic!

Like his compadre Willie Music City was a professional strait-jacket for Waylon. He risked it all to follow his muse.

Billy Joe Shaver supplied the hardscrabble source material for Waylo the set himself apart and make Billy Joe an accessory to the Outlaw Country movement.
https://www.youtube.com/watch?v=aoiuwUa9oZs
From the fertile soil of Memphis Tennessee, and the pioneering tutelage of Sam Phillips' Sun Studios, American music was changed forever and Johnny Cash was the country music portion of that that change.

Dylan is the very embodiment of a self-made man. Sure he borrowed from Woody and others but he brought it to another place.

Jimmie Rodgers traded a career in the train industry to playing his signature yodeling songs vaudeville and medicine shows to become the father of Country Music.