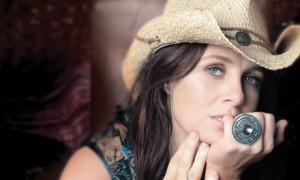 You'd think the addition of her third child, a beautiful daughter Poet, would afford Australian trad-country artist Kasey Chambers some time off. But no, she's just finished Wreck and Ruin, a follow up to 2008's excellent Rattlin' Bones, created with her singer/songwriter husband Shane Nicholson. She's now preparing to tour the United States behind her just-release her covers project, Storybook. The release features her unique interpretations of Hank Williams, Gram Parsons, Lucinda Williams and Texas legend Townes Van Zandt. The last whose music legacy she, along with The Avett Brothers' Scott Avett, Grace Potter, and others, reflected on in the recent book "I'll Be Here In The Morning: The Songwriting Legacy of Townes Van Zandt." In the midst of packing for her tour she was gracious enough to answer some questions.
Baron Lane (Twang Nation) – How has being a mother influenced your songwriting not just in practice but in point if view?
Kasey Chambers – Well I have to write all my songs quicker 'cos i don't have much time now with 3 children – ha. Actually I guess I have taught myself to write in and around the chaos otherwise I'd have to go out and get a day-job (and I really don't have any other skills so that is not really an option). Being a mother has thrown my whole world upside down – in a good way. I feel like it forced me to get to know my "real" self more than ever and what better fuel for songwriting is there than honesty?
TN – In 1999 you won the ARIA Award for "Best Country Album" for The Captain and I would classify much of your sound on "Storybook" as old-school honky-tonk. With the current state of country music in America your sound would fall under the Americana label. What's your opinion of mainstream Australian and American country music?
KC – To be honest I am just so happy than anyone wants to listen to my music that I really don't care what label they want to put on it. I consider myself a country artist but I think my idea of country is probably very different than what the "mainstream world" calls country . A lot of the stuff known as country these days is hard for me to identify with having come from the music grounding of Hank Williams, Louvin Bros and Gram and Emmylou. But it's hard to argue when you're in the minority and who am I to say what it should or shouldn't be. I find and listen to the music I love and share it with as many as I can. I honestly feel so lucky and constantly surprised at how many people I have managed to share my music with over the years. I never imagined any of that to happen.
TN – Do you identify yourself as a country singer, a folk singer, both? Something else?
KC – Someone called us "Country Goth" the other day – ha. i am definitely just a little old country singer.
TN -What is your approach to songwriting? Do you work it all out beforehand or is it a band/studio process?
KC – I don't think I really have a set process with writing. Sometimes a lyric will come to me, sometimes a melody, sometimes I sit there for a while and nothing comes at all. I wish I had more control over it but I guess it may not be as creative then. I often go six months to a year without writing one thing and that's ok. They will come when they are meant to.
TN – You will soon embark on a tour with a fellow countryman of mine (Texan) Sarah Joaroz, are there any other young female singer/songwriters you like?
KC – I have a young female singer/songwriter on the road with me at the moment. Her name is Ashleigh Dallas and she plays fiddle, mandolin, guitar, and sings harmonies in my band and she is just beautiful. She's 19, writes her own stuff as well and she is a big Sarah Joaroz fan so she is super excited about doing some shows with her. We are all gonna have a lot of fun together.
TN – Your new release, Storybook, showcases your take on personally influential songs handpicked from the iconic songbooks of Hank Williams, Gram Parsons, Lucinda Williams, Steve Earle, Townes Van Zandt and more. How did you pick the artists and songs to include?
KC -All these artists have inspired me in some way or another over the years and I can honestly say I would not be the singer/songwriter that I am without their influence. So many of these songs helped get me through some really hard times in my life.
TN – Was there any cuts that didn't make it?
KC -I really wanted to include about 20 other Lucinda Wiliams songs…..
TN – You have another collaboration with your husband, Shane Nicholson "Wreck And Ruin," coming out in September. How is writing and performing with him different for you?
KC – I argue with him a lot more than other musicians! We are like any other normal married couple – sometimes we just need time apart 'cos we drive each other crazy but I must admit it really is pretty awesome to stand on stage and sing with him. Especially a song we have written together – I absolutely love the sound we create together and at the end of the day I am his biggest fan. (Don't tell him though or he'll get a big head.)
TN – What role did music play in your childhood?
KC – I grew up in such a remote area in Australia and had hardly had any contact with civilisation so music was really the only form of entertainment that we had. No TV, no radio, so my dad would get out his guitar and play us old country songs around the campfire. At the time I thought all kids lived like that.
(added on edit) TN – Your sound is very reminiscent of American classic country from the 50's through the 70s. Did your sound shape from that location and era or was there Australian artists with that that sound that influenced you? How similar / different was American country to Australian country of the same era?
KC – My dad brought me up listening to some Slim Dusty and Tex Morton who are Australian bush balladeers from the early days but apart from that it was pretty much mostly American music that I grew up with. It wasn't until I was a teenager that I started to discover the music of Australian singer/songwriter Paul Kelly who is and was at the time hugely successful in the mainstream world of rock/pop music but I soon realised he had this sound that (even though I didn't understand why or how) somehow reminded me of the music I had grown up listening to. Turns out his influences were a lot closer to mine than I would have expected.
TN – What was your first concert?
KC – Does my dad's gig count? I would go and watch my mum and dad play when I was a kid and one day he asked me to get up and sing. He never got rid of me……
TN – What legend (living or dead) would you like to write a song with?
KC – I don't really do co-writing much. I only really do it with my husband and most of the time that is enjoyable but the thought of writing with a legend freaks me out so luckily I probably won't ever get asked…….