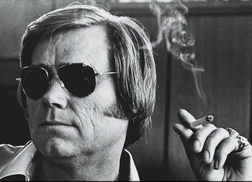 Last night's George Jones tribute held in Nashville's Bridgestone Arena featured 40 performances honoring The Possum by artists , many of home, might not be where they are without him.
Jamey Johnson, Jim Lauderdale, Shooter Jennings and his mom Jessi Colter, Trisha Yearwood & Garth Brooks, George Strait and Alan Jackson – they all played on honor of the "greatest voice in country music."
Billboard has a nice post on the event featuring a list of all performances.
Not sure of there's going to be a formal network showing or DVD release of the event, but The Triggerman from Saving Country Music informed me via Twitter that "….they (the event producers) were broadcasting video feed outside and there was a camera crew, so we know the footage exists."
That's great news, but until that day I will post fan-made videos below.
Eric Lee Beddingfield, Mandy Barnett, Teea Goans, Chad Warrix, Greg Bates – "Who's Gonna Fill Their Shoes"

Tommy Shaw (Styx) – "She Thinks I Still Care"

Vince Gill – "Bartender's Blues"

Oak Ridge Boys – "Same Ole Me"

Marina McBride & George Strait – "Golden Ring"

Jamey Johnson – "Tennessee Whiskey"

Blake Shelton & Miranda Lambert – "These Days I Barely Get By"

Garth Brooks & Trisha Yearwood – "Take me"
http://www.youtube.com/watch?v=3phmPLY1iZo
Patty Loveless – "Color Of The Blues"

Montgomery Gentry – "The Race Is On"

Brad Paisley – The One I Loved Back Then (The Corvette Song)

Jamey Johnson and Megadeath – "Wild Irish Rose"
http://www.youtube.com/watch?v=7GjtJczbZfc
George Strait – "The Grand Tour"

Alan Jackson – "He Stopped Loving Her Today"