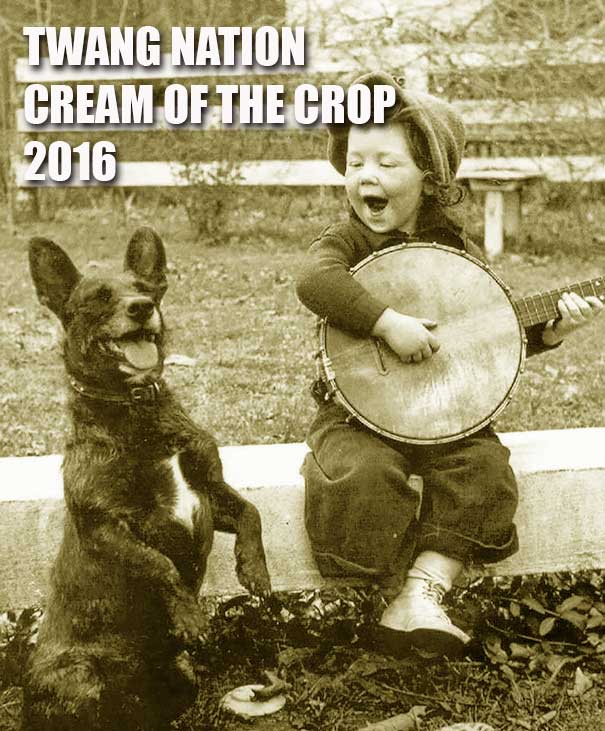 The year in music for 2016 is best defined by the classic Dickensian line from "A Tale of Two Cities," "It was the best of times, it was the worst of times."
Mortality cut a wide swath across some of the greatest and influential musicians of the twentieth century. Roots and country artists like Merle Haggard, Guy Clark, Ralph Stanley, Leon Russell, Jean Shepard, Glenn Frey, Red Simpson, Joey Feek and Steve Young among other greats like Prince, Sharon Jones, David Bowie and Leonard Cohen seemed harshly unrelenting. This level of loss will be felt in our cultural fabric in ways we've yet to understand.
To quote the late, great George Jones "Who's gonna fill their shoes?"
Let's hope that those passed legends shine as a beacon to the next generations to create great work that ties us together in song, music and common humanity. From what I know about 2017 I do see greatness coming.
But there was a silver lining. The influence of roots music in mainstream and, in a cultural equivalent of time folding in on itself, mainstream country music. This trend of influence occurs without Americana surrendering its identity of innovation and authenticity. To some artists, the genre was found too constricting and they lit out for another terrain better suited to their art.
And here's to a more equitable arrangement between tech companies and the musicians that provide the bedrock to build their empires. Much to be done here…
As others sacrifice to create, let's us, the audience, push ourselves to discover, share, attend live shows and financially reward the creators. Most which are hauling thier own gear and traveling to shows in cars or vans not tour buses.
Without them, this life is much less joyful.
Criteria – Calendar year 2016. No EPs, live, covers or re-release albums no matter how awesome.
Don't see your favorite represented? Leave it in the comments, and here's to a new year of Twang.
Matt Woods – 'How to Survive' – (iTunes | Amazon) – Tennessee troubadour Matt Wood's third studio album 'How to Survive' offers taut songwriting that cuts to the emotional quick. Not an overtly political album but something more effective in sowing understanding – a topical album.
Paul Cauthen – 'My Gospel' – (iTunes | Amazon)
Paul Cauthen's 'My Gospel' takes a page from the book of Paycheck and Waylon, a mix of juke box secular and pulpit gospel songs both personal and ethereal confessionals. These testimonials through Cauthen's big baritone that suits these sonic vignettes of contemporary southern soul.
Brent Cobb – 'Shine On Rainy Day' – (iTunes | Amazon) Like Chris Stapleton and Kacey Musgraves Brent Cobb worked the Music Row ear worm mines for years before moving front and center with his own wares. Those dues paid off. His debut is both breezy and heavy like the great music of the country crossovers from the 70s but fresh with life and rich with authenticity and tradition.
Darling West – 'Vinyl and Heartache' – (iTunes | Amazon) The Norwegian trio Darling West takes their smooth pop chamber folk aesthetic to a new high on their sophomore release 'Vinyl and Heartache.' Mari Sandvær Kreken's voice transcends each original cut, and a superb cover of Fleetwod Mac's 'The Chain," to take the extraordinary musicianship even higher.
Karen Jonas – 'Country Songs' – (iTunes | Amazon) All you need to know about Fredericksburg, Virginia-based Karen Jonas' is right there in the title. 'Country Songs' picks up where Jonas' 2014 debut 'Oklahoma Lottery' left us – somewhere between heartache and hangover. Her voice lies between sass and sultry as Jonas' accounts a woman longing for more and being fed up. All the while fitting perfectly with classic barroom weepers without resorting to threadbare nostalgia.
The Buffalo Ruckus – 'Peace & Cornbread' – (iTunes | Amazon) The Buffalo Ruckus' sophomore album 'Peace & Cornbread' still embodies the soul of all those barrooms the band has torched with their fiery live shows but brings the more feral elements to heel that pays off with cohesion and great songwriting. Here divinity mixes with road tar to create a great Southern soul album
Dori Freeman – 'Dori Freeman' – (iTunes | Amazon) One of the surprises of 2016, Freeman's debut exudes the confidence of a veteran performer and songwriter influenced equally by her native Appalachia as she is classic pop, bar room country and uptown jazz and moves deftly across it all to deliver an astounding cohesive treasure.
Kelsey Waldon – 'I've Got a Way' – (iTunes | Amazon) Kelsey Waldon's sophomore release has vulnerable resolve and classic country running through it like the coal veins in her home state of Kentucky. And just as bracing and satisfying as it's bourbon. Her plaintive voice and keen eye for human nature makes for these sterling tales of hard roads and tender hearts.
Austin Lucas – 'Between the Moon & the Midwest' – (iTunes | Amazon) Austin Lucas' latest release is a moody, pedal steel laden arc traveling among broken hearts and bitter tears. His signature croon sits between jubilant and forlorn and bears the marks of a man that's been through trouble but comes out the other side stronger and with better stories.
Whiskey Myers – 'Mud' – (iTunes | Amazon)
Few musical genres are as maligned as Southern Rock. But then a band comes all with an album that makes you believe again. Whiskey Myers' 'Mud' is that album. The band worked with Americana Auber-producer Dave Cobb to create an album that pushes lyrical and music boundaries established by their 2014 breakout release 'Early Morning Shakes.' The pride of Palestine, Texas mixes country, rock and blue-eyed soul to achieve one of their strongest efforts yet.
Robert Ellis – 'Robert Ellis' – (iTunes | Amazon) On Robert Ellis' fourth solo album, the Texas songwriter further moves from the school of George Jones country crooning even further into the adult pop of James Taylor and Paul Simon, and tackles adult themes of despair, restlessness and loss of love. A disciple of music styleS and texture, as well as songcraft and extraordinary fret work, Ellis delves into Chet Atkin's jazz-flavored country (Drivin), bossa nova (Amanda Jane) and even a neo-classical dirge (The High Road) and ties. It shouldn't work but damned if Ellis doesn't pull it off.
Hayes Carll – 'Lovers and Leavers' – (iTunes | Amazon) Carll's latest suggests his 5-year recording hiatus has been a rough if introspective stretch. 'Lovers and Leavers' is Carll's solemn of his career without tipping into being a dour bumfest. These days there's more on Carll's mind than drinking, hootin' and ahollerin'. This is an authentically more personal, emotional and confessional work that moves Carll into the realm of Guy Clarkian genius.
Margo Price – 'Midwest Farmer's Daughter' – (iTunes | Amazon) An overnight success 13 years in the making, Jack White saw something in Margo Price that Music Row didn't when he signed her as the first country artist on his Third Man Records label. Life's harsh beauty pours from each song and common resolve is there with grace. Stuff too real for Music Row confections. Price sits well within a current musical groundswell proving that soulful roots music has an audience hungry for something real and is here to stay.
Lori McKenna – 'The Bird & The Rifle' – (iTunes | Amazon)
'The Bird & The Rifle' – When she's not penning mega hits for the likes of Tim McGraw and Little Big Town, Lori McKenna puts her considerable songwriting skills to weightier faire like her latest, 'The Bird & The Rifle.' Intimate stories of small town hopes hitting the hard choices and their unforeseen consequences. We see ourselves in gems like "Halfway Home" and "We Were Cool" and brings more dimension to McKenna's own "Humble and Kind" which was a hit for McGraw. These songs create a web that ties our experiences together in common humanity.
Sarah Jarosz -"Undercurrent" – (iTunes | Amazon) Jarosz's 4th full-length studio album surprised many fans who've been listening since 2009's debut 'Song Up in Her Head.' The then teen wunderkind has built on her time in the bluegrass genre and arrived an accomplished arranger, songwriter, singer and musician. Traditional forms are reworked as contemporary personal reflections of maturity and sophistication. experimental pop fuse with classic songwriters like Paul Simon, Joni Mitchell and Carol King.
B.J. Barham – 'Rockingham' – (iTunes | Amazon) Inverting the country contemporary music trope of quaint small town nostalgia American Aquarium vocalist B.J. Barham focuses his deft songwriting eye on the gutting of the small town American dream. The album title, Rockingham, is the North Carolina, a town of a few thousand where Barham was raised, is the starkly real and metaphor for many forgotten towns. Steely-eyed truth sketches each hardscrabble scenario where desperation lingers thick in the air like the funk from the local tobacco company.
Robbie Fulks – 'Upland Stories' – iTunes | Amazon) Fulks is the unheralded hardcore alt-country troubadour. Though not as well known as Steve Earle or Chis Knight for decades Fulks is the guy the Earle and Knight would listen to closely for economy of songcraft and rich imagery. his newest offering is grammy nominated and might rightly put him at the top of Americana legends lists. Appalachian break downs and honky-tonk weepers driven by his voice that echos the ages makes this a glorious addition to the roots music canon.
Miranda Lambert – "The Weight of These Wings" – (iTunes | Amazon) Break-up albums are a mixed bag. When done well, as with Beck's 'Sea Change' and Willie Nelson's 'Phases and Stages,' the work can become an iconic confessional moment in a profession that trades on personal reflection. Miranda Lambert's double album 'The Weight Of These Wings,' split into two sides — The Nerve and The Heart, written in the wake of her tabloid fodder divorce from Blake Shelton shows Lambert taking a step back and licking her wounds with songcraft instead of chasing chart toppers. This is a 24-song thesis on survival, healing and returning back to Texas roots.
John Paul White – 'Beulah' – Out of the ashes of one of the most celebrated pop-folk duets of modern times rises a forlorn beautifully crafted from folk, classic country and adult pop. An album that is both rich lyrically and melodically. John Paul's post Civil Wars is a moody beauty with keen songwriting sharper and more cohesive than his CW days. Sparse arrangements- B3 organ, cello, drums, bass and the ever present acoustic guitar – build a fitting texture to frame the songs. Harmony is not forgotten with the Secret Sisters lending a subdued vocal hand on songs like the country weeper "I've Been Over This Before." This gets better with each spin