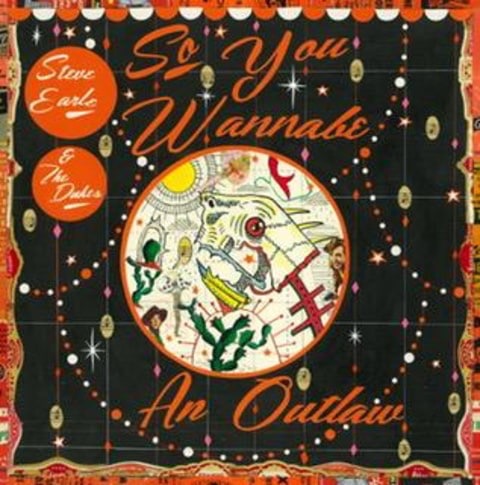 Being a Steve Earle fan can be a rough road. In the beginning there was no denying the neo-trad ferocity of 1986's 'Guitar Town.' Standing near traditional frameworks while pushing the boundaries continued in spite of mega-success, an epic downfall, years of addiction. Sonic experimentation songs that took a more overt politically left turn and a move to New York City had the Texas hillbilly hellraiser heading more toward Woody Guthrie/Bob Dylan territory that resulted much of Earles spotty 2000-era releases.
Sure there have uneven , head-scratching, moan inducing patches in his work. But when you have as long a body of work, have as restless a soul, and a passionate determination to use your art as a soapbox as Earle has been you're bound to hit a stinker now and again.
But recently Earle appears to have rediscovered his musical muse (the inspirational kind, he's proved to be unlucky with the female human kind.) Starting with a heartfelt ode to his brilliant if troubled mentor, 2009's "Townes," to his latest return to the majors, "So You Wanne Be An Outlaw" Earle appears to have remembered that he shines brightest when he's less Woody and more Eddie Cochran.
The title track is a message to the next generation of troubadours. A tele-twang sits atop a classic 4/4 beat as Earle lays out a story of music and mythology he's personally living in. Like Waylon's "Don't You Think This outlaw Bit's Done Got Out of Hand" Earle exposes the bark underbelly of the romantic outlaw myth. The isolation of life on the road, broken relationshipsresulting in hard-learned wariness. Willie Nelson makes an appearance on the cut delivering original outlaw gravitas. As a pioneer that blazed the trail for Earle both men use the occasion to recount the landscape like a sonic Lewis and Clark warning other travelers sure to throw caution out the touring van window that these are trial and troubles ahead.
Earle is at his best when he's peeling back his own story., this is never more true than "This Is How It Ends, " a mid-tempo recount of the dissolution of a marriage. Earle recruits fellow divorcée , and accidental Earle plagiarist, Miranda Lambert as a duet partner. The bittersweet lyrics and the notable sadness left in the wake of each other's absent partners makes the song that much more poignant.
'Fixin' To Die" is a sonic deluge of indedility, murder and resignation to ones demons with a melody snatched from "When The Levee Breaks" (the Led Zep bombast crunch version.) "Goodbye Michelangelo" is an elegant acoustic elegy to the legendary singer-songwriter, and early mentor of Earle's, Guy Clark. The outlaw mojo runs even deeper on the deluxe version of "So You Wanna…" featuring a rousing boot-stomping version of Billy Joe Shaver's "Ain't No God In Mexico" which Waylon Jennings popularized as well as Earle's versions of Willie Nelson's "Sister's Coming Home/Down At The Corner Beer Joint" and "The Local Memory." The deluxe version is fittingly bookended by Waylon's wryly defiant "Are You Sure Hank Done It This Way?"
This is the best Steve Earle album in over a decade, but he's apparently not content to enjoy the piling accolades and resulting success. He also appears to want to settle scores and raise dust. This has included complimenting up-and-coming talent (yay!) while then trashing two other artists (granted one of the targets is Hayes Carll, who did end up with Allison Moore- Earle's wife #6)
The question that comes to mind is why?
Earle has an undeniable musical legacy and has help shape an entire genre.He traveled the road blazed, stylistically and tactically, by the likes of Willie and Waylon that shook the establishment and drew an audience hungry for something real. Even his songs covered and receiving significant radio play by more mainstream artists, like Travis Tritt, still maintained a dignity and humanity.
Now that he's found his way back to a sort of return to form, it might be wiser to focus on the music and enjoy his legacy with a bit more grace and dignity asefitting an elder statesman.
But dignity and grace didn't get Earle here he is. It was rebellion to the bone.
Some have suggested that Earle is crassly cashing in at a time that the young guns – Sturgill Simpson, Jason Isbell, Margo Price, Nikki Lane – are hitting their popular stride. I call bullshit. If anyone has a right to look back to move forward it's Earle and his stellar body of work.
I'll wager that Earle, in true Texan onryness, could give a damn what anyone expects of him. His next album could be a collaboration with a rapper or a Tejano band if that's where his muse leads him. Like many artists with an ear to thier own drumbeat you must take the occasional codgy comment with brilliance that accompanies it.
8.5/10