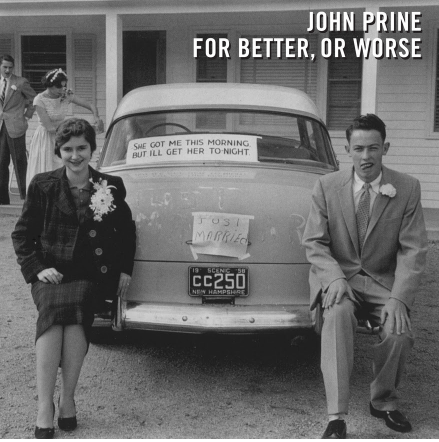 The other day John Prine teased some upcoming music by posting a picture on his Facebook page of he and long-time collaborator Iris DeMent laying down some tracks in his home studio.
Now the great news is out. On September 30, Oh Boy Records will release John Prine's latest, 'For Better, Or Worse,' a thematic bookend to his classic, Grammy nominated 'In Spite of Ourselves. Produced by Jim Rooney, John performs duets with country and roots luminaries like the aforementioned Iris DeMent, as well as Alison Krauss, Miranda Lambert, Kathy Mattea, Kacey Musgraves, Fiona Prine, Amanda Shires, Morgane Stapleton, Susan Tedeschi, Holly Williams, and Lee Ann Womack.
Wow, indeed.
The classic songs on 'For Better, Or Worse,' originally recorded by artists such as Hank Williams, George Jones, Ernest Tubb, Buck Owens and others, are in John's blood. "I cut my teeth on Hank Williams songs," he says. "When I sing these songs there is a small pipeline straight from my heart to my lips." The tracks take listeners through the universal cycle of love's pull, love's bend, love's life, and love's end.
The toe-tapping first single, "Who's Gonna Take The Garbage Out," originally done by Loretta Lynn with Ernest Tubb, features Iris Dement, is available now when you pre-order the new record. Hear it below.
This fall, John will celebrate both the new album and his approaching 70th birthday with two shows at Nashville's Ryman Auditorium, Sept. 30th & Oct. 1st, where he will be joined by some of the duet partners from 'For Better, Or Worse.'
John Prine took time to talk to NPR's Jewly Hight about the album.
Tracklist:
John Prine/Iris DeMent – Who's Gonna Take The Garbage Out
John Prine/Lee Ann Womack – Storms Never Last
John Prine/Alison Krauss – Falling in Love Again
John Prine/Susan Tedeschi – Color of the Blues
John Prine/Holly Williams – I'm Telling You
John Prine/Kathy Mattea – Remember Me (When Candlelights Are Gleaming)
John Prine/Morgane Stapleton – Look At Us
John Prine/Amanda Shires – Dim Lights, Thich Smoke and Loud, Loud Music
John Prine/Lee Ann Womack – Fifteen Years Ago
John Prine/Miranda Lambert – Cold, Cold Heart
John Prine/Kathy Mattea – Dreaming My Dreams With You
John Prine/Kacey Musgraves – Mental Cruelty
John Prine/Iris DeMent – Mr. & Mrs. Used to Be
John Prine/Fiona Prine – My Happiness
John Prine – Just Waitin'