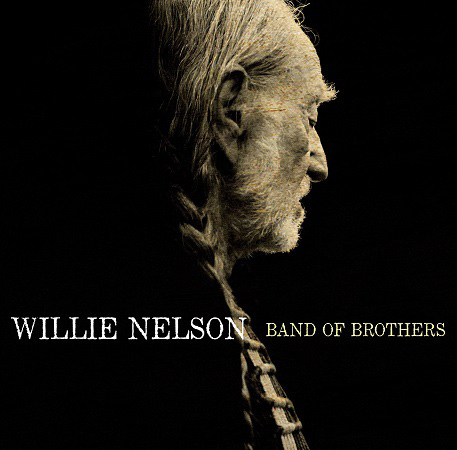 Willie Nelson, or as I like to call him the Texas Yoda, might have just celebrated his 81st birthday but he's showing no signs of altering his prolific ways.
The Country Music hall of Famer will follow up his coed duets album, "To All the Girls…" with "Band of Brothers," a new album due out June 17 on Legacy Records.
"Band of Brothers" will contain 14 tracks, nine of which are new Willie-penned, and none of the songs have been previously recorded by Nelson. There's also an interpretation of Vince Gill's "Whenever You Come Around" and a cover of campadre Billy Joe Shaver's "The Git Go" that will feature outlaw acolyte Jamey Johnson.
Producer Buddy Cannon, who helmed Willie's first three Legacy releases, is back. The band features Jim "Moose" Brown (keyboards), Eddie Bayers (drums), Kevin "Swine" Grantt (bass), Bobby Terry (guitar), Tommy White (steel guitar), Mickey Raphael (harmonica) and Trigger (Willie's guitar), Willie Nelson recorded the bulk of Band of Brothers during sessions at Sound Emporium Studios in Nashville with additional recording at Pedernales Studio, Austin, Texas and The Hit Factory Criteria, Miami, Florida. Recording sessions took place between October 2013 and March 2014.
Check the full track list below, and take a gander at the video for first single "The Wall" The song visits Willie's his battles with addiction, relationships, and financial troubles. There is also scenes of a legendary life well lived.
Willie Nelson — Band of Brothers track list
1. Bring It On (Willie Nelson/Buddy Cannon)
2. Guitar in the Corner (Willie Nelson/Buddy Cannon)
3. The Wall (Willie Nelson/Buddy Cannon)
4. Whenever You Come Around (Vince Gill/Pete Wasner)
5. Wives and Girlfriends (Willie Nelson/Buddy Cannon)
6. I Thought I Left You (Willie Nelson/Buddy Cannon)
7. Send Me a Picture (Willie Nelson/Buddy Cannon)
8. Used to Her (Willie Nelson/Buddy Cannon)
9. The Git Go (Billy Joe Shaver/Gary Nicholson)
10. Band of Brothers (Willie Nelson/Buddy Cannon)
11. Hard to Be an Outlaw (Billy Joe Shaver)
12. Crazy Like Me (Dennis Morgan/Shawn Camp/Billy Burnette)
13. The Songwriters (Gordie Sampson/Bill Anderson)
14. I've Got a Lot of Traveling to Do (Willie Nelson/Buddy Cannon)