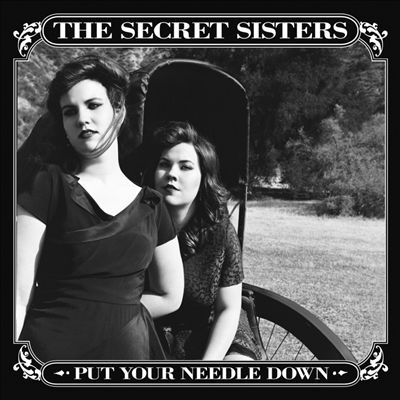 On their debut release the country/folk duo The Secret Sisters (Laura and Lydia Rogers from hallowed Muscle Shoals, AL) featured mostly covers. They showed impeccable taste by interpreting legendary gems by George Jones, Bill Monroe, Buck Owens, Hank Williams and Frank Sinatra. But even with the inclusion of a couple of originals the spirit of the Sisters seemed buried under that considerable musical history.
Since their 2110 debut the sisters haven't rested on their well-received laurels. The duo honed their craft by working with Jack White's Third Man Records, with Dave Stewart on a solo album, with The Chieftains on a tribute album. if that weren't enough they supplied a cut for a Hunger Games soundtrack. This busy schedule has done wonders to refine their craft and that refinement is put on full display on "Put Your Needle Down."
The opener is a clear example of that expertise. "Rattle My Bones," written by Brandi Carlile, Phil Hanseroth and Tim Hanseroth, sits atop a Bo Diddley beat on this cooking tune about man regret that has the sisters mingling sibling harmony in a way that only experience (and genetics) can.
"Let There Be Lonely" is a dreamy lament to hard love that yearns and burns right through you.
"Dirty Lie" is an unfinished, bootleg only, Bob Dylan song from the 80's that was brought to the sisters by producer and spiritual leader T Bone Burnett. They finished ou the song later after that meeting in their hotel room and the result is striking. Less folky obtuse defiance than a full torch mode Peggy Lee fronting a gypsy-jazz ensemble.
"Luka" is a slow-simmering tale of a woman attempting to escape an abusive father that slithers toward a dark en. Violins cry siren-like and meld into the high register singing that balances piqued emotion and harmonic beauty. "Pocket Knife" also employs violins to further turn up the heat. Flanked by a whinnying slide guitar and tribal drums the song builds an environment of the claustrophobic world that the women headed towards an unwanted marriage is living in.
"Lonely Island" is a lovely showcase for the sister's more relaxed style. It lulls you into weeping in your umbrella drink. "If I Don't" swings into a different take on Tammy Wynette as standing by your man comes with caveats that things better change and fast.
T Bone Burnett beings his sophisticated ear to shade the arrangements with just the right amount of funky antiquity. His direction and the extraordinary band build an atmosphere of parlor room intimacy that sounds like the best house concert you ever attended.
Listening to a Secret Sisters release is a crash course in the great American songbook. There's more grit and heat in these performances than on their previous effort. They seem more assured. Less winsome demeanor and more poised audacity.
The 12 songs on "Put Your Needle Down," many self-penned, proves the Sisters are no mere extraordinarily talented throwback novelty act. They are now interpreting the ages in their own impeccable style and making their own way.

Official Site | Buy