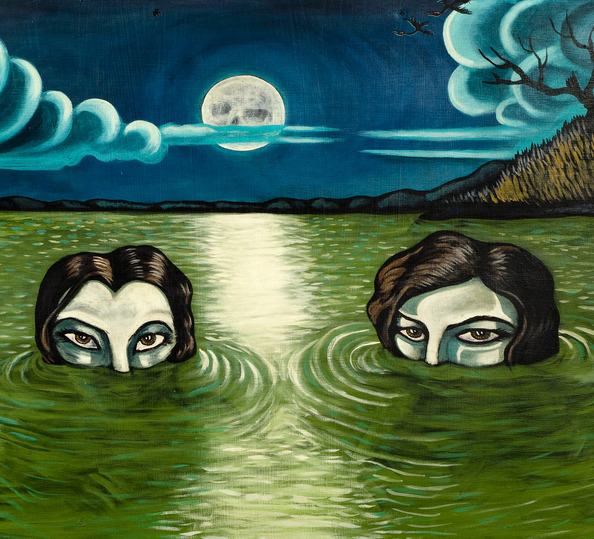 Drive-By Truckers 12th album, "English Oceans" is one of the most anticipated releases of 2014 (March 4 to be exact)
Of the album co-lead singer/songwriter and guitarist Mike Cooley says "It can go from this chainsaw rock 'n' roll to this very delicate, pretty-sounding stuff." Cooley fans will be happy that he brought six new songs to the sessions and this record marks the first time that Cooley sings a song penned by Patterson Hood on "Til He's Dead or Rises."
The album follows narratives from a cast of characters. "Pauline Hawkins," is based on a new novel by Willy Vlautin. A Political edge is shown in two songs on the record. Cooley's "Made Up English Oceans" and Hood's "The Part of Him." "It's about political assholery — there's someone new playing that role every few months," says Hood. "Grand Canyon," the final song on the album, is an emotionally overwhelming tribute to Craig Lieske, a longtime member of DBT's touring family. Lieske died suddenly in January and the album is dedicated to him.
The album was recorded with a compact, retooled lineup. Jay Gonzalez, who joined the band in 2008 as keyboardist, has added guitar to his duties, while bassist Matt Patton was drafted from the Tuscaloosa group The Dexateens. "It's a very tasteful group, and when it needs to be it can be a very big, powerful, over-the-top band, too, and it can go from one to the other seamlessly," says Hood.
English Oceans was recorded over 13 days at Chase Park Transduction Studios in the bands' adopted base of Athens, GA with their longtime producer, David Barbe.
The US tour will be announced in January and European fans can anticipate the band's return in May. The band will also do their annual homecoming shows at the 40 Watt in Athens in February.
English Oceans Tracklist:
01. Shit Shots Count
02. When He's Gone
03. Primer Coat
04. Pauline Hawkins
05. Made Up English Oceans
06. The Part of Him
07. Hearing Jimmy Loud
08. Til He's Dead or Rising
09. Hanging On
10. Natural Light
11. When Walter Went Crazy
12. First Air of Autumn
13. Grand Canyon
Drive By Truckers 2014 Tour Dates:
01/31 – Asheville, NC @ Orange Peel
02/01 – Asheville, NC @ Orange Peel
02/13 – Athens, GA @ 40 Watt
02/14 – Athens, GA @ 40 Watt
02/15 – Athens, GA @ 40 Watt
05/10 – Dublin, IR @ Vicar Street
05/11 – Glasgow, UK @ ABC
05/12 – Manchester, UK @ Ritz
05/13 – London, UK @ Shepherd's Bush Empire
05/15 – Amsterdam, NL @ Paradiso
05/16 – Antwerp, BE @ Trix