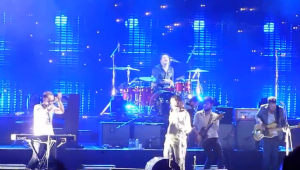 Mumford and Sons get a bad rap for being wimpy. I've often agreed with this sentiment. Last night in Toronto Mumford Co flashed a little edge.
In an encore that began with their standard cover of Bruce Springsteen's "I'm On Fire" and the Babel track "Reminder." Marcus Mumford then announced openers The Vaccines' guitarist Freddie Cowan and then it was 1980 all over again with the familiar licks of AC/DC's "You Shook Me All Night Long."
Marcus Mumford, moved to the decidedly un-Mumford instrument of drums. The band found a fan that knew the words to the song and they got to star on the stage for the cover.
Watch it below: