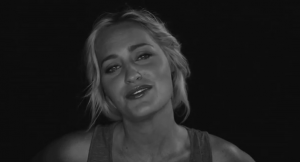 Okay, here's how this went down. I was trolling Kickstarter to see if there were any Americana artists seeking funding that I could hep out. I came across Memphis-born/Brooklyn-based singer/songwriter Trisha Ivy's campaign to fund her upcoming EP "Cotton Country."
The campaign was already funded to the tune of $12,721 (of a 12,000 goal) Turns out these are some smart investors.
Her video was charming and made me wish I had heard of her sooner so I could kick in a few bucks. She counts Patty Griffin and Hank Williams as influences. Damn fine company. intrigued, I then headed to YouTube to hear some of her tunes. I was fortunate to find the video below for "Talking in Your Sleep" uploaded just over a year ago. In a word, damn!
Aside from Trisha Ivy's obvious good looks her voice…THAT VOICE. Warm and vulnerable. It draws you in and makes the world dissolve supported by the gentle yearn of a pedal steel. This is fine bourbon on a rainy night music, people.
A comment on the video says that this is a "Song about commitment. He was in a coma after motor cycle accident." Not sure if this is true, but given the lyrics it very well could be.
If the below song is close to what she;ll deliver i can't wait To hear the result of Trisha Ivy'S Kickstart campaign.