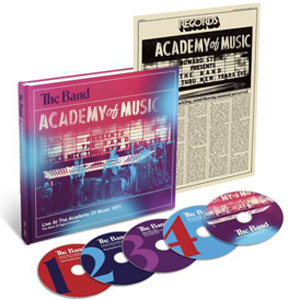 Ultimate Classic Rock reports that Capitol/UME will release a The four-CD, one-DVD set of The Band live at their peak.
The concerts are from the last week of 1971 and is entitled 'Live at the Academy of Music 1971′ (Sept. 17)
From Ultimate Classic Rock "The four-CD, one-DVD set gathers 56 performances from the group's Dec. 28-31 shows at New York City's Academy of Music. A two-LP version of the concerts was released in 1972 as 'Rock of Ages.'
The expanded box set will include a mix of all four nights' shows on two discs (which make up all the songs they played during the four-night stand) and the complete New Year's Eve concert on the remaining two CDs. Songs include Band classics like 'The Weight' and 'The Night They Drove Old Dixie Down.' The complete track list is below.
In addition to cover songs and reworked versions of their own tracks, 'Live at the Academy of Music 1971′ spotlights new horn arrangements by Allen Toussaint as well as a surprise guest appearance by Bob Dylan, who joined his old backing band on four songs during the New Year's Eve show encore.
The DVD includes the remastered first two discs of the box in surround sound, plus two video clips — 'King Harvest (Has Surely Come)' and 'The W.S. Walcott Medicine Show' – from the Dec. 31 concert. The set also includes a 48-page hardbound book with photos and essays."
The Band's 'Live at the Academy of Music 1971′ Track List:

Disc 1
'The W.S. Walcott Medicine Show'
'The Shape I'm In'
'Caledonia Mission'
'Don't Do It'
'Stage Fright'
'I Shall Be Released'
'Up on Cripple Creek'
'This Wheel's on Fire'
'Strawberry Wine'
'King Harvest (Has Surely Come)'
'Time to Kill'
'The Night They Drove Old Dixie Down'
'Across the Great Divide'
Disc 2
'Life Is a Carnival'
'Get Up Jake'
'Rag Mama Rag'
'Unfaithful Servant'
'The Weight'
'Rockin' Chair'
'Smoke Signal'
'The Rumor'
'The Genetic Method'
'Chest Fever'
'(I Don't Want To) Hang Up My Rock and Roll Shoes'
'Loving You Is Sweeter Than Ever'
'Down in the Flood' (With Bob Dylan)
'When I Paint My Masterpiece' (With Bob Dylan)
'Don't Ya Tell Henry' (With Bob Dylan)
'Like a Rolling Stone' (With Bob Dylan)
Disc 3
 'Up on Cripple Creek'
'The Shape I'm In'
'The Rumor'
'Time To Kill'
'Rockin' Chair'
'This Wheel's on Fire'
'Get Up Jake'
'Smoke Signal'
'I Shall Be Released'
'The Weight'
'Stage Fright'
Disc 4
'Life Is a Carnival'
'King Harvest (Has Surely Come)'
'Caledonia Mission'
'The W.S. Walcott Medicine Show'
'The Night They Drove Old Dixie Down'
'Across the Great Divide'
'Unfaithful Servant'
'Don't Do It'
'The Genetic Method'
'Chest Fever'
'Rag Mama Rag'
'(I Don't Want To) Hang Up My Rock and Roll Shoes'
'Down in the Flood' (With Bob Dylan)
'When I Paint My Masterpiece' (With Bob Dylan)
'Don't Ya Tell Henry' (With Bob Dylan)
'Like a Rolling Stone' (With Bob Dylan)