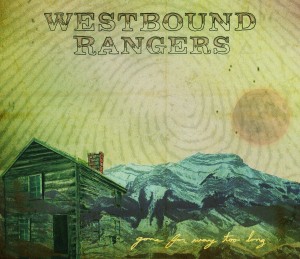 The Westbound Rangers are a group of young performers that honor the proud tradition of bluegrass and country instrumentation and themes. But a close listening to their songs will revel a uniqueness that gives the songs energy and makes it a stylistic companion to the Avett Brothers and Trampled By Turtles.
The band draws from what mandolin player Mike Walker describes as a "spectrum of sounds and styles," ranging from oldtime to country to rock and roll.
The band met as students at Belmont University, where they would meet in dorm rooms for jam sessions. In the five years since, the acoustic quartet— Graham Sherrill (Banjo, vocals) Mike Walker (Mandolin, Vocals) Read Davis (Guitar, Vocals) and Wes Burkhart (Bass) has evolved from those occasional jams to becoming a serious contender in the roots music scene. They are currently making a big noise with the release of their third album, "Gone for Way Too Long" (below), a gig at the Stagecoach and the Telluride Band Competition and upcoming appearances at Floydfest, Bluegrass in the Park, & Americana Music Association Festival this September in Nashville, where I plan to catch them.
Recorded at John Prine's Butcher Shoppe studio in Nashville, "Gone for Way Too Long" is a solid collection original songs and several traditional tunes that demonstrate the vibrancy of the bands live shows.
"Playing traditional songs live allows us to help preserve a piece of music history by bringing it to a contemporary audience," explains Read Davis "But it's also important to us that we put out own spin on those songs."
Standouts for me are an excellent version of the old traditional "Handsome Molly," a claw hammer style banjo tune which has been covered by Doc Watson, the Stanley Brothers and Mick Jagger. "Rocks Cry Out" is also fantastic rouser that builds to a sizzling fervor steeped in religious imagery.