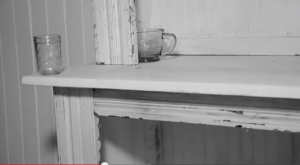 When Greil Marcus coined the phrase "Old Weird America" in his book Invisible Republic, he wasn't describing The Handsome Family. The line that Marcus drew from Harry Smith's Anthology of American pre-World Folk Music to Bob Dylan and his work with The Band could easily continue it's sonic trajectory to the husband and wife songwriting duo Brett and Rennie Sparks.
The video for the single Woodpecker, from their new release Wilderness, is shot in moody greys by director Chris Hefner. Acoustic guitar and mandolin delicately accompany this tale of Mary Sweeny, a woman who has a irrepressible obsession with smashing windows lands her in a state institution, where the remedies do more harm than good. Woodpecker follows The Handsome Family's Gothic-folk style and narrative that harkens back to folk tales brought over by our ancestors.
Wilderness is out now on LP, CD, and as a deluxe box set.
A companion book of original artwork and essays by Rennie Sparks, also titled Wilderness, will expand on the meticulously researched and little-known enigmas of the natural world explored on the album: immortal jellyfish, woodpecker tongues, dancing octopi, fly royalty, the secret language of crows, and mysterious ant spirals. A 72-page, 12"x12" full-color edition of the book will be included with the deluxe box set, along with an 11"x17" color poster and a six-postcard set, all with original art by Rennie. A black and white edition of the book will be available separately.
Wilderness Track Listing
1. Flies
2. Frogs
3. Eels
4. Octopus
5. Owls
6. Caterpillars
7. Glow Worm
8. Lizard
9. Woodpecker
10. Gulls
11. Spider
12. Wildebeest
HANDSOME FAMILY TOUR DATES
6/20 – Cambridge, MA @ Club Passim
6/21 – Fall River, MA @ Narrows Center for the Arts
6/22 РNew Haven, CT @ Caf̩ Nine
6/23 – Hudson, NY @ Club Helsinki
6/27 – New York, NY @ The Slipper Room
6/28 РPhiladelphia, PA @ World Caf̩ Live
6/29 – Brooklyn, NY @ The Knitting Factory
7/19 – Friday, Minneapolis, MN at The Cedar Cultural Center with Azita
7/20 – Madision, WI, @ The High Noon Saloon, EARLY SHOW (with Azita)!
7/22, – Chicago, IL @ Pritzker Pavillion – 6:30pm*
7/24 – St. Louis, MO, @ Off Broadway with Danny Barnes
7/25 – Bloomington, IN @ The Bishop with Danny Barnes
7/26 – Louisville, KY @ Headliners with Cathy Irwin and Danny Barnes
7/27 – Athens, OH @ The Union with Danny Barnes
7/28 – Ann Arbor @ The Ark with Danny Barnes
*Free Show
phrase "Old Weird America" as described in his book Invisible Republic, which deals with the lineage connecting the pre-World War II folk performers on Harry Smith's Anthology of American Folk Music to Bob Dylan and his milieu.