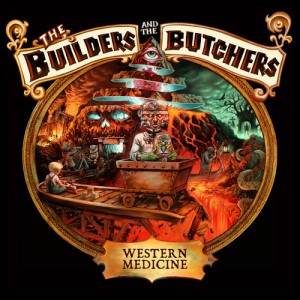 Dark roots band The Builders and the Butchers, (Ryan Sollee – vocals/guitar; Harvey Tumbleson – guitar/banjo/mandolin; Ray Rude – drums/organ/piano; Willy Kunkle – bass; Justin Baier – drums), are known for their for their rowdy live shows and their proclivity toward folks musics darker subject matter.
The Alaska-born / Portland-based and band's new release, Dirt in the Ground , trods through similar stylistic territory. The chugging intro is a study in stark mortality said to be inspired by the Southern Gothic writings Cormac McCarthy. Sollee's frantic wail threads symbolism of a patriarchal graveyard jig , fire, fear and guilt and our collective end as he wails as a matter-of-fact "one day soon you'll be the dirt in the ground." The song's pressure-cooker conclusion is like a Mumford and Sons show gone off the rails.
Western Medicine is The Builders and the Butchers fourth release and will be released on July 2nd. Pre-order will be available soon through Badman Records site.
The Builders and the Butchers upcoming dates:
May 10 Austin TX-Anotnes
May 11 Denver CO-Bluebird Theater (w-The Thermals)
May 23 San Fransisco Ca-Cafe Du Nord
May 24 Visalia Ca-Cellar Door
May 25 Santa Cruz Ca-Crepe Place
May 26 Sacramento Ca-Harlow's (w-Murder By Death)
June 8 Spokane Wa-Elkfest
June 22 Portland Or-Mississippi Studios ( CD release show)