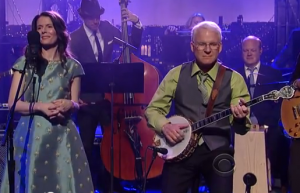 Steve Martin and Edie Brickell. The pairing seemed odd when i caught wind of it, but the results were a great combination of rustic roots with modernist sensibilities. Like the Nashville Sound if it had taken place 30 years earlier.
They made their collective TV debut last night, performing "When You Get to Asheville" with the Steep Canyon Rangers on the Late Show With David Letterman.
Appearing in back woods finery Martin deftly works the banjo and Edie recalls her "What I am…" breathlessness on this plaintive tune of a classic lovelorn longing. The perennial theme is afforded
modern touches like using email to communicate. They are deftly backed by the Martin's usual partners Steep Canyon Rangers The cut is taken from their new release, Love Has Come for You, which Rounder released this week.
http://www.youtube.com/watch?feature=player_embedded&v=xVFpn_MK0G8#!