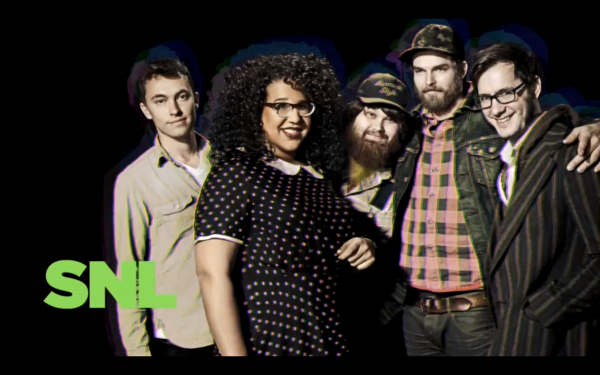 Alabama Shakes is riding a wave of buzz from their GRAMMY Awards nominations, the band's appearances on "Saturday Night Live" and "Austin City Limits," and their debut album, Boys & Girls (ATO Records) and selling 100,000 copies and being certified RIAA Gold (just proves people are still willing to buy good music.)
Alabama Shakes has just announced Spring/Summer tour dates that include South America, Canada and Europe. The roots/rock band will kick off a North American headline tour on June 18 at LC Pavilion Outdoors in Columbus, OH. The outing will include two nights at Los Angeles' Hollywood Palladium (July 17 & 18).
For further details, visit www.alabamashakes.com.
Upcoming Tour Dates
March
12 – Dallas, TX @ Palladium Ballroom – SOLD OUT – with Michael Kiwanuka, Sam Doores and Riley Downing supporting
13 – Austin, TX @ Rodeo Austin – with Michael Kiwanuka, Sam Doores and Riley Downing supporting
15 – New Orleans, LA @ The Sugar Mill – SOLD OUT – with Michael Kiwanuka, Sam Doores and Riley Downing supporting
16 – Jackson, MS @ Hal + Mal's Street Dance – with Michael Kiwanuka, Sam Doores and Riley Downing supporting
27 – Mexico City, Mexico @ Jose Cuervo Salon
30 – Sao Paulo, Brazil @ Lollapalooza Brazil
31 – Sao Paulo, Brazil @ Cine Joia
April
1 – Rio de Janeiro, Brazil @ Circo Voador
3 – Buenos Aires, Argentina @ Quilmes Rock 2013
6 – Santiago, Chile @ Lollapalooza Chile
May
10 – Napa, CA @ Bottle Rocket Music Festival
June
1 – Houston, TX @ Free Press Festival
2 – Morrison, CO @ Red Rocks Amphitheatre w/ Edward Sharpe & The Magnetic Zeros SOLD OUT
7 – Birmingham, AL @ Sloss Furnace – SOLD OUT
8 – Birmingham, AL @ Sloss Furnace – SOLD OUT
18 – Columbus, OH @ LC Pavilion – Outdoors
19 – Detroit, MI @ Royal Oak Music Theatre
20 – Toronto, ON @ Echo Beach
22 – Dover, DE @ Firefly Music Festival
23 – Port Chester, NY @ The Capitol Theatre
30 – London, UK @ Olympic Park/Hard Rock Calling w/Bruce Springsteen & The E Street Band
July
13 – Louisville, KY @ Forecastle Festival
14 – Tulsa, OK @ Cain's Ballroom-w/Fly Golden Eagle & Hurray For The Riff Raff supporting
15 – Albuquerque, NM @ Popejoy Hall-w/Fly Golden Eagle & Hurray For The Riff Raff supporting
17 – Los Angeles, CA @ Hollywood Palladium-w/Fly Golden Eagle & Hurray For The Riff Raff supporting
18 – Los Angeles, CA @ Hollywood Palladium-w/Fly Golden Eagle & Hurray For The Riff Raff supporting
19 – Las Vegas, NV @ The Pearl Theater-w/Fly Golden Eagle & Hurray For The Riff Raff supporting
21 – Alta, WY @ Targhee Festival
23 – Vancouver, BC @ Vogue Theatre
25 – Calgary, AB @ Calgary Folk Music Festival
26 – Edmonton, AB @ Interstellar Rodeo
28 – Minneapolis, MN @ Cabooze Outdoor Plaza
August
7 – Oslo, Norway @ OYA Festival
8 – Gothenburg, Sweden @ Way Out West
9 – Skanderborg, Denmark @ Skanderborg Festival
10 – Haldern, Germany @ Haldern Festival
13 – Barcelona, Spain @ Apollo
14 – Porto, Portugal @ Paredes Da Coura
18 – Hallendoorn, Holland @ Lowlands Festival
September
7 – Guthrie, OK @ Gentlemen of the Road w/Mumford & Sons – SOLD OUT