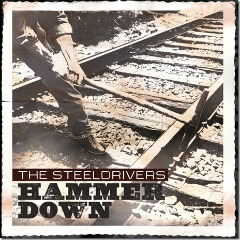 Adele and i share something in common. We are both SteelDrivers fans. Adele even honored the band by recording a version of their song "If It Hadn't Been for Love" and included it as a B side to her best-selling "Rolling in the Deep" CD single and has covered that very same song live.
The three time Grammy nominated, Nashville based band are well worthy of such accolades.
The SteelDrivers embody some of the best characteristics of any roots/Americana band performing today. The band fuses often dark lyrics, soul, bluegrass and mature pop to create something new and fresh and somehow comfortably familiar.
The SteelDrivers are banjo player Richard Bailey, bass/vocalist Mike Fleming, guitar / vocalist Gary Nichols, fiddler / vocalist Tammy Rogers and mandolinist Brent Truitt. Produced by Luke Wooton, Hammer Down is a collection of 10 new tunes from Rogers and Nichols as well as original members Chris Stapleton and Mike Henderson. The set also includes the songs "I'll Be There" and "Cry No Mississippi" that Nichols co-wrote with John Paul White of The Civil Wars.
The SteelDrivers' upcoming Rounder Records' release "Hammer Down" can be heard below for one week here at Twang Nation.
The SteelDrivers are on the road for much of 2013 and an updated itinerary is at www.steeldrivers.net
Tour Itinerary to Date:
February 6 Music City Roots/Loveless Cafe Nashville, TN
February 8 The Station Inn Nashville, TN
February 16 Joe Val Bluegrass Festival Framingham, MA
February 17 The Iron Horse Northampton, MA
February 18 Joe's Pub New York, NY
February 28 The Ark Ann Arbor, MI
March 2 Woodlands Tavern Columbus, OH
March 3 Beachland Ballroom Cleveland, OH
March 8 Bluegrass Underground McMinnville, TN
March 9 Mountain View Bluegrass Fest Mountain View, AR
March 21 Carbondale, IL Hangar 9