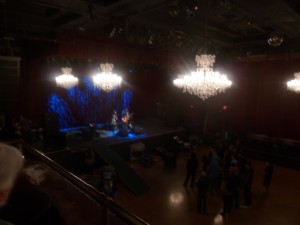 I received an email invitation from the local GRAMMY Foundation representatives to cover the Civil Wars as they participated in a GRAMMY Camp event to have college and high school students sit in on a sound check and a Q&A afterward.  I waited on the rest of "the press" and hoped that I would get an opportunity to squeeze in my one or two questions when the band too time to meet with us, I was then told by Christen , the GRAMMY rep, that I was the press. As I stab at my Droid smart phone to pad out my questions and topics they were brought in by their road manager and, in contrast the Southern-Gothic image conjured by their music, they immediately start ribbing me about my name and dashing all pretense. We then spent the next 15 minutes (I was promised 5) in a fun and engaging conversation that I hope is reflected below.
People, like myself, who obsess about music often too reflexively shun anything stained with mainstream success. Like Jack Black's character, Barry, from the film adaptation Nick Hornby's High Fidelity berating a father entering Championship Vinyl looking to buy Stevie Wonder's "I Just Called To Say I Love You" for his daughter's birthday,  we often miss the joy that music brings people and degrade it into our own personal cultural caste system.
Perhaps it was the inclusion of The Civil Wars' song Poison & Wine in an episode of ABC's Grey's Anatomy in 2009. Perhaps it was the Taylor Swift tweeting to her legion of followers that she she was a fan of the band (and then included them in her iTunes playlist). Perhaps it was being hand-selected by Adele to open her United States shows which led her to rave on her blog – "If you're coming to any of the shows on this trip make sure you get there early to see them. I've never been so blown away."  Whatever it is, it seemed that for some the Civil Wars,  Joy Williams and John Paul White, were destined to wear the dreaded scarlet M (mainstream.)
It's interesting to me that one of the shining lights of Americana refuses to be corralled by the label and part of their success may be a result of  this refusal to be pigeonholed. It was a unique opportunity for me to meet with Joy and John Paul, and hear  their beautiful harmonies soar within a nearly empty Fillmore hall. The hall where legendary promoter, Bill Graham, made his mark by following his love of music. Boundaries be damned. I hope you like the interview.
Twang Nation: I read that you've recently spent some time in the company of Rick Rubin and T Bone Burnett.
Joy Williams: Ah, word on the street.
John Paul White: It feels really weird to have that conversation. We were hanging out with Rick Rubin….
TN: Does your popularity help you get an audience with star producers like these where many others would be sent packing if they were to ask?
JPW: I think that everything we've done up until now has been done to this point with the music in mind. We don't pitch ourselves or push ourselves on producers, labels or even listeners. Everything we've done has been let's just make the best music we can and perform it as well as we possibly can, and let the chips fall where they may. The beauty of technology is that word of mouth can spread so easily and so much faster that this entire year we've had many great opportunities come to us just from making music we dearly love and performing it as well as we possibly can. When that happened it was just another thing we never expected. If we had reaching out to them and said "We're the Civil Wars. Like us." that would have changed things. We like to find things and i'm sure they like to find things. We were extremely flattered when they bring us up.
TN: You guys are great at what you do, but there's a lot of great music out there. Americana isn't known for having superstars but you're the closest it's come. How did you rise above the fray to get the profile your enjoying? Was it the team around you I saw at the Artist Development panel at the Americana Music Association conference? was it the inclusion of your song (Poison & Wine) onGrey's Anatomy? You had a high-profile fan (Taylor Swift) that tweeted her affection for your music.
JW: I feel like there have been a lot of small hinge moments on a really big door. I don't think you can go back and attribute it to just two or three things. We're very fortunate that the music has connected with people the way that it has. We've also worked really hard to do things in a different way. We've hand-selected every single person that is now a part of our team and they give a damn because they aren't forced to work on this. I think people coming to our shows and tweeting, whether they are a celebrity or not,  that word of mouth, is one of the biggest gifts you can give an independent artist. it's exciting to come back to cities where we played to maybe a quarter of the people that we get to play to the next time we're there. We're  excited that sales are growing , but more than that we we get to play music. We genuinely love what we do and hopefully that connects with people as well. No one is more surprised than we are that this is working out. (laughs)
JPW: I think people tend to gloss over how hard we work. This is the third time we've played San francisco this year. There are a lot of cities around this nation that are the same way. at the beginning of the year we were playing to maybe an hundred people and now we get to play this place tonight (the capacity I found on google for the Fillmore that is 1199) , it's like the old sports adage the more we practice the luckier we get.
TN: I was surprised to see your name  as a nominee for the Country Music Awards Vocal Duo of the Year. You were beat out by Sugarland, but the CMAs aren't known for being unpredictable.
JPW: I would assume a lot of that has to do with CMT (Country Music Television) because we got no country radio play. CMT played the hell out of the Barton Hollow  video, and now the poison & Wine video. That got us in front of a lot of people.
JW: It's interesting to see us played on CMT and the VH1. We don't know where we fit within a genre, but that doesn't bother us.
TN: So you don't think you fit within a genre?
JW: No
JPW: No, but that was never the idea. We didn't set out to be this and not that. we just wrote music some things were natural – we liked this, and we liked that. We never set out like this is what we want to be and this is what we don't want to be. When we went out to play it would be she and I went and a guitar. So things starting tailoring themselves to that set-up. By the time we got into the studio we has an idea of what we do, and don't do. What we like and what we don't. The record (Barton Hollow) ended up stripped-down and simple because we had spent so much time on the road with the songs, that when we would add instruments they just got in the way. It ended up being a minimalist record but it was never set out to be that way. we never said at any point "If we turn t this way just enough country radio will play this." or "If we put a banjo on there we're screwing ourselves."  We just wanted to make the album exactly the way we wanted to and be completely selfish about it.
JW: We just followed our noses.
JPW: And by doing that way we really don't fit anywhere.
JW: But no complaints about that. We don't feel ostracized by any group. We've had everything from pop to folk to Americana, country..we're happy with all those titles.
JPW: If you're not playing the radio game it's probably in your best interest. because then the Americana fans, the country fans, the folk fans, the bluegrass fans…we even have rock fans, which kind of makes sense since I am such a huge rock and metal fan and maybe hints of that show up in our work. We appeal to all types because we are doing what we love and people pick up on that.
TN: With the Country Music Awards nomination,and the Americana Conference Awards nomination for New/Emerging Artist and Duo/Group of the Year and all the other awards you've won, you figure you'll be up for a GRAMMY?
JW: Well, who knows?
JPW: I have plenty of doubt abut that.
TN: Do you?
JPW: I do.
TN: I'll place a wager that you're going to get a GRAMMY.
JPW: You're asking us to bet against ourselves? I'll do it, what do we bet?
TN: What do you drink?
JPW: Oh yes, let's do that. bourbon…whiskey…the older the better.
TN: How about  bottle of Bulleit?
JPW: A bottle of Bulleit it is. I hope I lose.
TN: I'll be covering the GRAMMYS and will be in L.A. to claim my prize. just a couple more questions. you don't want to be associated by a genre but you can be defined by your influences, who are some of yours?
JW: We couldn't have more different backgrounds when it comes to this. I grew up listening to a lot of crooners – Ella, Etta, Frank and then it went on to Joni Mitchell, Joan Biaz, Janis Joplin, The Beach Boys and the Carpenters we always playing in my house. Then I got my license and started to drive and had total control of the radio which then turned completely to pop.
JPW: We listened to a lot of top 40 on my mom's car radio and a lot of country music. Then i was listening to my friend's Ozzy records, Black Sabbath and Queen and all of that. Then i came back around to listening to the stuff I grew up with and cut my teeth on. The Beatles, E.L.O., Jeff Buckley later…Elliot Smith. Elliot is my guy.He probably sums up everything I love about music.
JW: Mine would be Billie Holiday. Yours would be Elliot and mine would be Billie.
JPW: They're not that far apart. And they;re not that far apart in temperament if you believe their biographies. We're not that different.
TN: Who would you like to share that stage with?
JW: Anybody alive?
TN: Alive or dead.
JPW: I got one. For alive I'd say Tom Waits.
JW: Yes! Alive Tom Waits!
JPW: But I'd be terrified. We could just stand next to him and sing harmony and let him be the mad man.
JW: I'd be the happiest person in the world!
JPW: Dead would be Elliot Smith.
JW: Townes Van Zandt for me, or Billie Holiday.
TN: I would love to hear you guys cover a Townes song.
JPW: We talked about "Waiting Around to Die." i don't feel like we can go anywhere near "Pancho and Lefty."
TN: I saw a video on YouTube of you covering Michael Jackson's Billie jean (see below)
JPW: There's certain songs, like a Townes song, that makes perfect sense for us to cover. So for whatever reason they sometimes fall flat. We do them as you would expect us to do them. So sometimes it makes more sense for us to take Billie jean or (Jackson 5's) I Want you Back, that we feel like are great songs but you might be distracted by the production and a lot of people don't realize how great the songs are. Plus it's a lot of fun for us.
JW: We're really not into navel-gazing in terms of what we perform. We take what we do seriously but we don't take ourselves seriously. I think if you make it like a living room experience, to me, that's more enjoyable than watching someone sing only their own songs. We always like to keep people on their toes a little bit.
JPW: It can get heavy so we like to lighten things up a bit.
[youtube]http://www.youtube.com/watch?v=MZhIm-XtZIk&feature=related[/youtube]