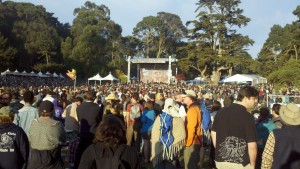 The 11th annual Hardly Strictly Bluegrass festival was dedicated to the activist folk/country singer who died in April at the age of 75. Dickens had played the festival every year since it's inception in 2001. Her influence was felt everywhere from the her likeness stamped on the programs, to references from the stages and the sense of community in the crowd and from the stage.
During the Wronglers' set with Jimmie Dale Gilmore that kicked day 2 of the three day event, the band had Dickens' longtime collaborator Ron Thomason sit in for a cover of Dickens' signature song, "The Mannington Mine Disaster." Wrongler banjoist, festival benefactor and longtime Dickens fan, Warren Hellman said  "We were very fond of each other but we couldn't be two more opposite people," Hellman said. "She's probably looking down from heaven right now thinking, 'How did that old bastard make it?"
Next I was off to the Star stage to catch my buddy Jimbo Mathus in the South Memphis String Band. The cosmic-America vibe mixed with front porch casualness easily won over the crowing crowd as the smell of the Bay Area's favorite controlled substance filled the air. Jolie Holland, a Texan by way of Bay Area is a distinctive voice ran her all-famale  four-piece band a braod swath of her discography with charm and passion.
Then off to the Arrow Stage for Southern Culture on the Skids. I'd been wanting to see SCOTS for a long time but it never worked out. Their brand of white-trash boogie is like a monster truck, a wonder of precision fused to a aesthetic awesome abomination.
I headed due East to settle in at the Banjo stage to catch John Prine. Prine still casts a folkie wry eye on modern living. His opening number Spanish Pipedream – "Blow up your TV, throw away your paper, Go to the country, build you a home." With Bay Area rent what it is this is a sentiment appreciated in spirit if less so in practice.
As anticipated the heavy crowd quickly swelled when the ex-Zep wailer Robert Plant brought his latest roots music venture – The Band of Joy, to the Banjo Stage. Grittier than his work with Alison Krauss on Raising Sand. Variations of Los Lobos, Low, Townes Van Zandt and reworked Zeppelin tunes were visited. The mic was passed between Plant and band-mates Patty Griffin, Buddy Miller, and Darrell Scott . The plant encored with excellent reworks of Zeppelin's Bron-Y-Aur Stomp and Gallows Pole.
Saturday was dominated by two living country music legends. Merle Haggard and Kris Kristofferson ran through a treasure trove of golden hits of their own and from Bob Wills and Johnny Cash on the Star Stage as the sun warmed the capacity crowd.
When I saw Gillian Welch and David Rawlings a few months back as they struck out on their current tour Gillian had mentioned that it was the lack of new material while playing Hardly Strictly 10 that led to the creation of their current release Harrow and the Harvest. The pair made up for it at HSB 11 as new songs were slotted in with older favorites in their 12 song set which encored, appropriate for San Francisco, Jefferson Airplane's White Rabbit.
Golden Gate Park has a long history of free music festivals, beginning with the "Human Be-In" of 1967 and continues Hardly Strictly Bluegrass because of one banjo player, bluegrass and roots music enthusiast, Warren Hellman. You could see him on the side of the stage catching many of the acts smiling like a kid. Even sharing the stage with Jimmie Dale Gilmore, resplendent in a Nudie-style black jacket, sparkling Stars of David along the sleeves designed by his granddaughter, his love of the music is felt from observing him and results in the three day event and 90 acts spread across six stages highlighting some of the best of Americana and roots music. Every year, stacks of personal thank-you cards turn up at the offices of Hellman & Friedman, his private equity investment offices, but you can imagine that even without the gratitude he;d still do it for personal pleasure. There are worse ways to spend your millions.
If there was a negative to the HSB festival they were the aforementioned record-breaking crowds. The large amount of older people, children and dogs addd to often stand-still conditions made things uncomfortable if not dangerous. Perhaps next year a minimal cover charge to keep the crowd under control? Also, and I understand that this is San Francisco, bit the amount of marijuana in the air made it obviously family unfriendly. What you do with your body is your business but when your purple crush wafts downwind to a playing three-year old you're imposing on others.
Also, I've never understood the inclusion of bands that have absolutely no Americana or roots music influences on the bill. Broken Social Scene may be a indy darling but there are a hundreds local and national bands that would kill for a spot at the premier Americana festival that is currently occupied by a band that can get a slit at any of the dozen rock festivals held.
Thanks to Warren Hellman, Dawn Holliday, general manager of Slim's and the Great American Music Hall, who spends half the year organizing the Hardly Strictly event, and all the other volunteers and other personnel for putting together another great (and FREE!)Â  event.
Gillian Welch and David Rawlings – "I'll Fly Away, White Rabbit"
[youtube]http://www.youtube.com/watch?v=myB1k6wtgWg[/youtube]
Kris Kristofferson & Merle Haggard playing "Sunday Morning Coming Down"
[youtube]http://www.youtube.com/watch?v=fpjbboA-YU0[/youtube]
Robert Plant and the Band of Joy – "Thank You"
[youtube]http://www.youtube.com/watch?v=ls1de0syj4M[/youtube]