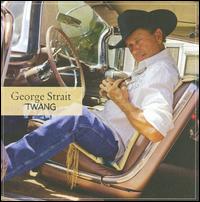 Anybody that's read this blog for more than five minutes knows that the style of country music that I champion is typically not represented on the flavor of the week  "country" charts. I'm not in the business of puffing up entertainers that have more in common with REO Speedwagon than Hank Williams and my M.O., my brand if you will, has always been cream doesn't necessarily rise to the top, sometimes it's found around the edges.
George Strait is the type of rare bird that can sit on last week's  #1 Billboard 200 and Country Chart spot and yet finds it's place in my heart. It's not that I hate popular country music per se, it's just that most popular country music is made for, and consumed by, people that wouldn't be caught dead with a Merle Haggard or Loretta Lynne CD in their collection and their idea of classic country is Alabama or Kenny Rogers.  George Strait is an neo-traditional alchemist that can please both the arena-filling masses and the discerning and grumpy critics like myself.
Maybe it's his residence in Texas and his perceptible love of his (and my) home state's regional flavor and away from the syrup factory of Music City, maybe it's his sharp instincts for picking just the right songs to cover, whatever it is it's been like a sound as a classic truck for over three multi-platinum decades.
Twang is Strait's 25th studio album and his follow up to 2008's excellent Troubadour and as subdued that earlier release was Twang is more like a celebration. The boisterous Bakersfield vibe of the Kendall Marvel, Jimmy Ritchey and Mr. Americana Jim Lauderdale penned title song comes right from the Buck Owens school of songwriting and lets it be known that Strait is not about to shy away from some hillbilly hell raising.  Where Have I Been All My Life and  Living For The Night are pure coming of age and heartache schmaltz (complete with string section), but Strait's authentic delivery drives it right to the heart.
On Twang Strait steps up to the songwriting plate again for three songs co-written with his son, George "Bubba" Strait, Jr. The aforementioned  beer-soaked bawler Living for the Night," the Ray Price-style crooner Out of Sight, Out of Mind and the frothy-lament He's Got That Something Special. On his own Bubba penned the excellent Marty Robbins-style tale of the outlaw and gunfighter Dave Rudabaugh, Arkansas Dave.
Strait pays tribute to Texas' neighbors with both the rollicking Gordon Bradberry and Tony Ramey penned Hot Grease and Zydeco and the José Alfredo Jiménez classic ranchera song El Ray that he does completely in Spanish.
Once again Strait proves that he's the most consistent talent going and the current King of Country Music.
Official Site | MySpace | Buy

[youtube]http://www.youtube.com/watch?v=c9EJWIeNzIs[/youtube]