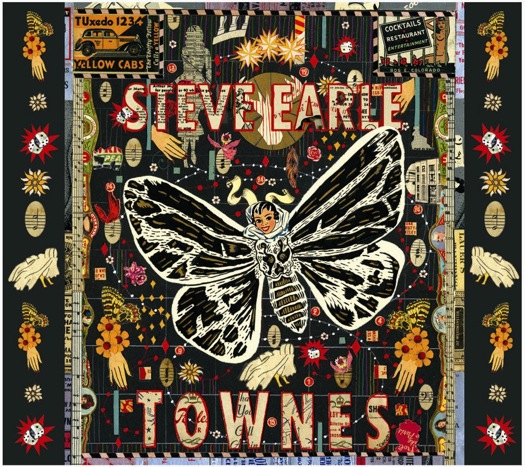 As I've posted before Steve Earle is in the process of recording an album of cover songs of his freind, mentor, Texas legend and source of his son's middle name Townes Van Zandt entitled simply Townes. Pitchfork has posted that the album will be released May 12 on the New West label and will also be available as a deluxe two-CD set and on 180-gram vinyl.
From Pitchfork: "Dust Brother John King, who produced Earle's 2007 album Washington Square Serenade, mans the boards on one song, "Lungs". On that same song, Rage Against the Machine's Tom Morello guests on guitar. Singer-songwriter Allison Moorer, Earle's wife, sings backup on "To Live Is to Fly" and "Loretta". Earle also recruited a backing band of bluegrass all-stars to play on several songs. And duetting on "Mr. Mudd and Mr. Gold": Earle's son Justin Townes Earle, appearing on record with his dad for the first time. "
Head over to Pitchfork.com to hear a stream of Earle's cover of Van Zandt's "Lungs", featuring Tom Morello doing his wikki-wikki turntable-scratch thing on guitar.
Townes track list:
1 Pancho and Lefty
2 White Freightliner Blues
3 Colorado Girl
4 Where I Lead Me
5 Lungs
6 No Place to Fall
7 Loretta
8 Brand New Companion
9 Rake
10 Delta Momma Blues
11 Marie
12 Don't Take It Too Bad
13 Mr. Mudd and Mr. Gold
14 (Quicksilver Daydreams of) Maria
15 To Live Is to Fly