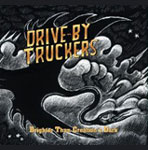 The new release from the Drive By Truckers "Brighter Than Creation's Dark" drops in a couple of weeks, but you can head over to the DBT site and get a bonus when you pre-order.
You will be entered in a drawing for one of 2 grand prizes to include a signed poster, a gift certificate for $100 of merchandise from the official Drive-By Truckers store and 2 tickets to an upcoming headlining Drive-By Truckers show of your choice. In addition, the first 100 people to purchase the Brighter Than Creations Dark CD & T-shirt bundle will also receive a signed tour poster from the Drive-By Truckers.
Contest ends January 22nd.