"Everybody get's their own take on a song. They find something that they can tap their foot to or clench their fist to. Hopefully it'll be somewhere in between." Malcolm Holcombe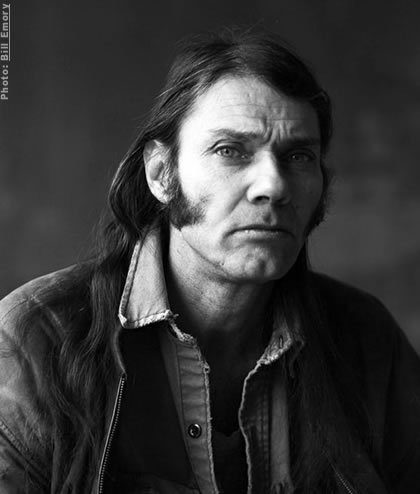 Malcolm Holcombe is like a myth. A backwoods character in a Southern Gothic novel with a voice filled with a grave-dirt rattle and telling tales of simpler, and harder, times. Times he knows about. Surviving brushes with Nasvhille Big Labels, addictions and demons – No less than Steve Earle once famously said of him ""Malcolm Holcombe is the best songwriter I ever threw out of my recording studio." Strong praise from a man that knows a thing or two about demons.
On the stage he casts out demons away like a man possessed.  Eyes rolled back, head shakes, spinning tales in his graveled yelp, standing up, walking away from his chair in mid-song. Not missing a lick on his guitar.
Malcolm Holcombe isn't for everybody. But if you love music with heart and soul. Music that's been somewhere and seen a thing or two, then he might be just the man for you.
I sat down with Malcolm Holcombe on a rainy afternoon last month in Nashville.
Twang Nation: You were born in Weaverville, N.C., what were your musical influences growing up?
Malcolm Holcombe: A lot of different sources. My mama played a little French harp and she was very supportive. I litened to the Grand 'Ol Opry on the radio, Flatt and Scruggs, and Stringbean (David "Stringbean" Akeman) was always one my favorites. Grandpa Jones. Bluegrass music. And then in the early 60's when all the Rock 'n Roll starting hittin' some of that. Mother had a few records. The Nutcracker Suite and Tennessee Ernie Ford. I had an Uncle that was a Baptist Preacher that made records and we used to play those. Used to sing songs in church.
TN: Tell me a little bit about your High School band, the Hilltoppers.
MH: Oh yeah, we got out and played a Sadie Hawkins dance or two. We covered some new folk songs, Peter Paul and Mary and such, as well as old folk songs.
TN: You lived here in Nashville for a while and had a brush with the big label system.
MH: Yeah, I lived in Nashville for several years. I'm not sure what happened when I was with Geffen. My album (Hundred Lies) got shelved and a lot of folks got axed, people were just moved around the checker board you know? I think things are better now because they sure were in a pile of bullshit for about 8 years. So in my opinion they are looking up.
TN: Well, they certainly are for you. You've some out of some hard times come back with great work that has some pretty impressive critical and audience support.
MH: I don't know about that. I'm just trying to be of service.
TN: I checked out the videos of you on fan made YouTube videos, and checked your Facebook and Myspace pages, and you've got a loyal fan base.
MH: Well, it flips me out. t's a miracle. To have a pulse and be able to share a tale or two. It just goes to show that if you hang around the barber shop long enough you're gonna get a haircut. I just hung on 'til I did.
TN:You tour Europe quite a bit don't you?
MH: Yeah, I've been fortunate enough to get over there. I met a woman over there, Joanna Serraris (promoter for Musemix) is working with a lot of Americana artists. Andrea Parodi (the late Sardinian Folk Singer) he was a great songwriter, very soulful and passionate. He helped me and used to tour manage and helped a lot of people.
TN: Do you have a strong following there?
MH: I don't know, if anybody shows up I'm thankful.
TN: Europeans seem to me to be open the rich history of American music that I think you best represent. More than whatever is on pop radio.
MH:Well I've been fortunate to have folks here and over there that have been appreciative, I can't say that one part of the world is more so than the other. I'm just glade to be of service doing my job. It's easy to get complacent. We're pretty spoiled in America, but we are only 200-plus-change years old. There are peope playing music here that opens doors to the roots music of America and England, Ireland and Germany. Education and open mindedness is the key. I'm hopeful. These are hard old times and I'm just lucky to be of service, to have a job, to have a purpose.
TN: Onstage you play like you have a purpose.
MH: Well you want folks onstage to deliver. If you're going to raise corn you gotta get your hands on the plow.
TN: You seem to really be in another place onstage.
MH: And scared to the dickins! (Laughs) Still scares me to get up there. But I'm glade when I do it. You're from Dallas right?
TN: Yeah.
MH: You ever heard of the All Good Cafe?
TN: Yeah. That's a great place to see a show and get a beer.
MH: That's were I saw this guy once there named Slim Ritchie, he plays in Texas a lot. I think he lives down there. He reminded me of Django Reinhardt, Man he was smooth. Made it look easy. I saw this one l little lady around San Antonio that was gifted and talented and was about knee-high to a grasshopper, but she could belt it out, Bianca DeLeon. She's a fine talent but no bigger than a minute.
TN: I'll check her out. Now on your new album, For The Mission Baby, you are working with producer Ray Kennedy again (he also produced Holcombe"s last release 2008's Gamblin' House.)
MH: Yeah, I've been talking to Ray for a long time and I thought it would be a rewarding experince to work on a project with Ray. And thanks to this little fledgling lebel in Asheville, NC (Echo Mountain Records) we were able to make a deal. They brought Ray on board and let me call the shots and have the creative control and I appreciate that. It's very rare in this business to make a record like this, with great musicians, without people breathing down your neck to make a hit. Man, make a hit- I don't even know what that is. It's beyond my understanding, that's not my purpose
TN: For a typically live solo act you have some great help on this record.
MH: Aw it's wonderful, we had more fun! I saw Tim O'Brien (bouzouki, banjo, mandolin, fiddle, harmony vocal) last night and he was right in the pocket at this PBS Song of America taping we did last night. a lot of good people, David Roe on bass, he was on Gamblin' House and Wager, I wanted to work with him again. Jared Tyler from Tulsa (dobro, lapsteel, harmony vocal), he's got it in his blood and his skin the way that music pours. And Lynn Williams on percussion, Lynn's been with Delbert McClinton for years. Ray's wife Siobhan (Maher) and Mary (Gauthier) on backing vocals. It's a lot of history and scary stuff ya know (laughs). But we played as a band and after one or two takes we were done. Very organic.
TN; This seems like a more upbeat album than Gamblin' House. Is it because of the fun in the studio?
MH: Well, everybody get's their own take on a song. They find something that they can tap their foot to or clench their fist to. Hopefully it'll be somewhere in between. We did have a wonderful two or three days cutting it with thise folks. I have some wonderful memories. Hopefully people will feel that like you do and it'll ease the burdens of the passing of time.
TN:Your finger picking style, playing the bass, rhythm, lead, percussion along with your vocals, reminds me a lot of style of Lightnin' Hopkins.
MH: Well, that's kind of you to say so. It's just me trying to hone down desperation, trying to hone down frustration. We're are all products of our raising, our environment. Like you and Dallas. Where are you now?
TN: Right now I live in San Francisco.
MH: Man, I love California. It's really pretty. The most red tailed hawks I've ever seen. In Santa Ynez, North of Santa Barbara there's a place, uh, Tales from the Tavern. It's run by Ron Colone. He's got a series that gets folks to spin a tale and pick a tune. Ron's a sweet man and a promoter and he has this wonderful series of people that come pick and sing. Ramblin' Jack Elliott's played there. Have you been?
TN: No, but it's now on my list.
MH: Well you need to do. It's not that far from San Francisco. Sweet people, nice as they can be.
TN: You opened for Merle Haggard. Did you get to meet the man?
MH: Very briefly. There  was one show that I was at and his first song was Silver wings and I just about melted into the floor.
TN: Who else have you played with that impressed you?
MH: I got to play with John Hammond, he's a sweetheart. Richard Thompson, he's such a gentleman. He's a real picker and writes those great songs. I remember The Fairport Convention, they had great harmony. And Shelby Lynn,  she's a wonderful songer and performer. A lot of people have been good to me thank the Lord.
(starts to rain hard)
TN: Looks like it's coming down hard. I'll wrap up so we can get out of here.
MH:Yep, we better get before we all get water logged.