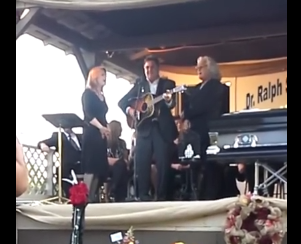 YouTube member tdcat26 uploaded this video from Ralph Stanley funeral. It gives us an intimate glance of what it was like to be in attendance with all those paying tribute.
Vince Gill, Patty Loveless, and Ricky Skaggs were on hand to do the same.
After a beautiful eulogy Vince Gill performs 'Go Rest High On That Mountain,' a song Gill began writing in the tragic aftermath of Keith Whitley's death in 1989, but did not finish the song until a few years later following the death of his older brother Bob, in 1993, of a heart attack.
As in the original recording Patty Loveless and Ricky Skaggs lend their backing vocals in moving tribute.
In memory Gill said 'The first time I heard Ralph's voice it was life-changing. ,,, It was the most mournful, it was the most soulful, and it reached deep inside me more than any other voice I had heard in Bluegrass."
Patty Loveless remembering her performance of 'Pretty Polly' live with Stanley "It means so much to me,,,I had a career but this raised even further."