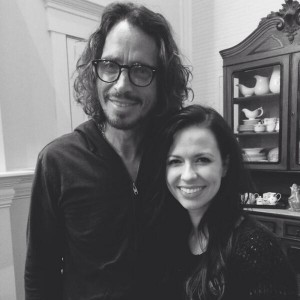 Photo ChrisCornell.com
12 Years a Slave is the tale of a man abducted in New York and sold into slavery. The story's soundtrack, overseen by R&B singer John Legend, inspired an eclectic group of songwriters and performing roots, blues, pop, and R&B.
Artists represented are Gary Clark Jr., Alabama Shakes and Cody Chesnutt as well as tracks from the score by composer Hans Zimmer.
Also included is is a new cut from "Misery Chain" by Soundgarden and Audioslave frontman Chris Cornell. This slow burner features soulful background vocals by the Civil Wars' Joy Williams.
Cornell and Williams cut the track in Nashville and it's produced by Charlie Peacock (The Civil Wars, Holly Williams)
Cornell told Rolling Stone "I was moved by this film and the story in a way that transcends any film experience I have ever had," he said. "I was inspired to write a hundred different songs, but finally landed on one based on what I believe is an extremely important message I took from this man's journey. Compassion, basic human rights and love must be our priorities above race, religion or commerce. Every generation needs a reminder of that simple idea."
Here "Misery Chain" below.