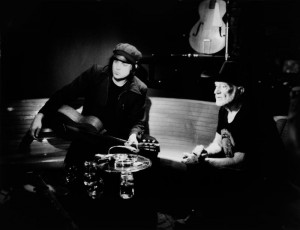 Jack White continues to crank out one-of-a-kind, quality goods from his Nashville-based Third Man Records. For the latest offering from his Vault Platinum Subscription service the label will offer a colored vinyl recording of Willie Nelson's 80th birthday celebration shown on CMT Network's Crossroads. the package will also include a 6′ of Jack White and Willie Nelson singing duet together on "Red Headed Stranger," posters, lapel pins and other goodies (aka The Vault Platinum Package #17.)
From the press release:
"One of the highlights of 2013 (so far) has been the esteemed honor of hosting country music legend Willie Nelson at Third Man to celebrate his 80th birthday. On April 18th of this year Willie played a concert with some guest musicians, among them real life legacy artists, but also importantly, some handpicked sidemen from the house of Third Man. All of this was documented for the public on a very special episode of the CMT Network's esteemed Crossroads series. Meanwhile, behind the scenes, tape was rolling on that historic show (as is Third Man's way) and every song (even those not broadcast) was captured on beautiful, warm-sounding analog tape by the crack Third Man team of engineers. It was in many respects a perfect evening.
This is a beautifully-packaged, 3-sided double LP with a gatefold sleeve of the Willie Nelson & Friends concert, with performances as of yet unreleased and unheard!
Featuring Willie Nelson, Jack White, Neil Young, Leon Russell, Norah Jones, Sheryl Crow and Ashley Monroe pressed on Smokey Grey and Bio-Diesel Green Vinyl with an etched graphic of Willie's guitar "Trigger" on the D-Side this is an outstanding LP visually and audibly for casual fans and collectors alike!
TRACK LIST
Roll Me Up
Angel Flying Too Close To The Ground – with Ashley Monroe (Unreleased)
Blue Eyes Crying In The Rain – with Ashley Monroe
Funny How Time Slips Away – with Norah Jones
I Gotta Get Drunk – with Norah Jones (Unreleased)
Sail Away – with Neil Young (Unreleased)
Long May You Run – with Neil Young
Far Away Places – with Sheryl Crow
Whiskey River – with Neil Young, Ashley Monroe, Sheryl Crow, Norah Jones, Jamey Johnson
A Song For You – with Leon Russell
Heartbreak Hotel – with Leon Russell (Unreleased)
Red Headed Stranger (Broadcast Version) – with Jack White
WILLIE NELSON & JACK WHITE RECORDING BOOTH 6-INCH RECORD
The second item in this stellar package is Third Man's first-ever 6″ record, pressed on transparent yellow vinyl, with an etched b-side and housed in a 6″ die-cut sleeve. The A-side captures one of those near mythological musical moments , something that could only happen here at Third Man, of Jack White and Willie Nelson dueting together on "Red Headed Stranger" in Third Man's Voice-O-Graph Recording Booth. This is a version not shown on television and was recorded live in the TMR Recording Booth.
DELUXE FOLD OUT POSTER
Behold the double sided, foldout, metallic printed poster on special heavy stock paper… One side features Willie Nelson in the TMR Recording Booth and the flip is an all new Metallic Platinum Vault Design. Double the bang for your buck
Lastly, TMR will be doing something special to thank returning Vault members and welcome new ones. With this Vault Package 17 only, members will receive a membership kit at no additional charge to their Platinum service!