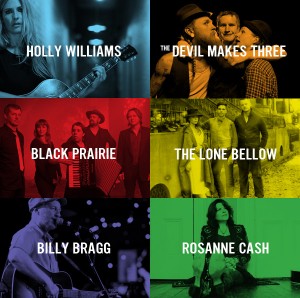 Nashville-based Americana Music Association has released an excellent initial artist line-up for showcase portion of the conference, festival and awards show. the selections show a broad range of diversity and excellence the of the genre. Great to see many Casa Twang favorites represented as well.
Artists include: Black Prairie, Billy Bragg, Rosanne Cash, The Devil Makes Three, Frank Fairfield, Drew Holcomb & the Neighbors, John Fullbright, JD McPherson,
The Lone Bellow, Aoife O' Donovan, Darrell Scott & Tim O'Brien, Richard Thompson, The White Buffalo, Holly Williams and The Wood Brothers
The 14th annual event will take place in Nashville, Sept. 18-22. I'll be there. hope you are too!
Showcase artists confirmed to perform include:
Black Prairie
Billy Bragg
Rosanne Cash
The Del-Lords
The Devil Makes Three
Sam Doores, Riley Downing & the Tumbleweeds
Frank Fairfield
Field Report
John Fullbright
Drew Holcomb & the Neighbors
Hurray for the Riff Raff
The Infamous Stringdusters
Kruger Brothers
Pokey LaFarge
Nikki Lane
The Lone Bellow
Luella & the Sun
JD McPherson
Buddy Miller & Jim Lauderdale
Aoife O'Donovan
Old Man Luedecke
Lindi Ortega
Darrell Scott & Tim O'Brien
Shakey Graves
Sturgill Simpson
Sons of Fathers
Spirit Family Reunion
Steelism
The Stray Birds
Richard Thompson
Holly Williams
The White Buffalo
The Wood Brothers