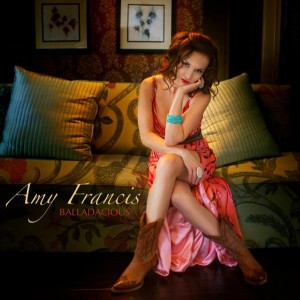 Bodacious is a Southern/Southwestern portmanteau of bold and audacious. It's meaning is remarkable, courageous, audacious, spirited and unmistakable.
Corpus Christi TX native Amy Francis uses this linguistic fusion and forms the title of her new release , Balladacious. Just as she reinterprets words Francis also uses this skill to give her own take on some of  country music's best-known classics.
The album opens with Francis beautiful voice powerfully breaking the silence with a vulnerable delivery of the Hank Cochran barroom lament Don't Touch Me. Francis brings the longing and apprehension contained in the song to a palatable level and disarms you of all cynicism. A staple of country music is it's unabashed sentiment and Francis' heart is emblazoned boldly on this first song.
The spirits of Patsy Cline, Tammy Wynette and Brenda Lee are conjured with all their romantic weariness giving testament. Not just because Francis covers Sweet Dreams, Apartment #9 and Fool Number One respectively, but because she is a believer. She brings authenticity to these songs because she embodies them wholly not simply mimicking them like many Music City talen dipping a toe in traditionalism.
Her take on Bobbie Gentry's Ode to Billy Joe reworks this dark song of small-town gossip and makes it swing with an acoustic guitar and strings accompaniment. Her covers of George Jone's "Picture of Me Without You" and "I'll Share My World With You" elevates them to the honky-tonk majesty they deserve and Vince Gill's hit "When I Call Your Name" is covered with barrel-house piano and pedal steel accompaniment and achieves a forlornness that LeAnn Rimes's cover never came close to.  Ronnie Milsap's "Stranger Things Have Happened" is given an equal turn with Francis' voice soaring at heights while singing about the depths. The hope against hope and lessons contained in these testimonials of  despair makes country music some of the greatest forms of contemporary tragedy. Francis approaches each with dignity and grace they deserve and strikingly nimble vocals that breath life into every barroom confession.
I have an ambivalent relationship with Nashville Sound era country music. When Owen Bradley, with Chet Atkins and Bob Ferguson moved hillbilly music from the hollers and honky tonks to the supper clubs, by adding strings, backing vocals and other adornment better suited for crooners of the day, they laid the path toward the enormously lucrative but culturally superficial pop-country industry we've inherited. Like the great performers of the Nashville Sound era Francis charms me into putting aside bias by keeping the soul enact while stripping back just enough veneer to let you hear the heart break.

http://www.youtube.com/watch?v=8ssAJ4u7VRA&list=UUCdLHmRYCJy-e9k_rh2Zhgw&feature=plcp