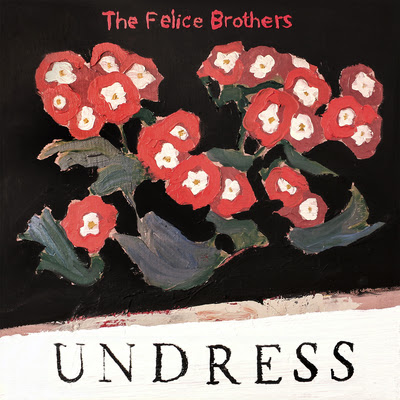 Few contemporary bands embody what Greil Marcus coined as "Old. weird America" as well as The Felice Brothers and a new release by this Upstate New York rustic-core collective is always welcome news.
The new album, "Undress," the follow-up to 2016's "Life in rhe Dark," will be released on May 3rd from Yep Roc Records.
Cut live to tape with very little overdubbing, Undress was recorded in the late summer of 2018 in Germantown, New York. Band members Ian Felice, James Felice, Will Lawrence (drums) and Jesske Hume (bass) teamed up with producer Jeremy Backofen to record their most personal and reflective album to date.
 
"Many of the songs on the new album are motivated by a shift from private to public concerns," says songwriter Ian Felice. "It isn't hard to find worthwhile things to write about these days, there are a lot of storms blooming on the horizon and a lot of chaos that permeates our lives.  The hard part is finding simple and direct ways to address them."
 
Since the band's last 2016 album release the group in a very different place. Between personnel changes, families growing and the political landscape, the result is a tighter, more-paired down release. "Every song is a story," said James Felice. "On this album everything was a bit more thoughtful, including the arrangements, the sonic quality and the harmonies."
Listen to title cut "Undress"
Pre-order "Undress" Here
 
Ian and James Felice grew up in the Hudson valley of upstate NY. Self taught musicians, inspired as much by Hart Crane and Whitman as by Guthrie and Chuck Berry, they began in 2006 by playing subway platforms and sidewalks in NYC and have gone on to release nine albums of original songs and to tour extensively throughout the world. Following the release of Life in the Dark, The Felice Brothers served as the backing band for Conor Oberst's 2017 release Salutations and the subsequent tour. 
The band kicks off a US tour starting on April 27 in Albany. Tickets go on sale on February 12 at www.thefelicebrothers.com.
 
Tour Dates:           
4/27: Albany, NY – TBA                                   
4/28: Syracuse, NY – The Westcott Theater            
4/29: Buffalo, NY – The 9th Ward at Babeville           
4/30: Toronto, ON – Legendary Horseshoe Tavern           
5/2: Chicago, IL – Sleeping Village                       
5/3: Lexington, KY – On The Rail Roots Festival                       
5/4: Columbus, OH – Rumba Cafe                                   
5/6: Pittsburgh, PA – Club Cafe                                   
5/7: Lancaster, PA – Tellus 360                                   
5/9: Philadelphia, PA – Johnny Brenda's                       
5/10: Brooklyn, NY – The Bell House                       
5/12: Hopewell, NJ – Hopewell Theater                       
5/15: Portsmouth, NH – 3S Artspace                                   
5/16: Providence, RI – Columbus Theatre                       
5/18: Cambridge, MA – The Sinclair 
5/23: Virginia Beach, VA – Elevation 27 
5/24: Richmond, VA – Richmond Music Hall                               
5/25: Vienna, VA – Wolf Trap – with The Avett Brothers                              
6/6: Asheville, NC – Grey Eagle Tavern                       
6/7: Decatur, GA – Eddie's Attic                                   
6/8: Nashville, TN – Exit/In
6/9: Birmingham, AL – Avondale Brewery
6/10: New Orleans -Gasa Gasa
6/12: Austin, TX – Barracuda
6/14: Santa Fe, NM – Tumbleroot
6/15: Tucson, AZ – 191 Toole
6/16: San Diego, CA – The Casbah
6/17: Los Angeles, CA – Bootleg Theater
6/19: San Francisco, CA – The Chapel
6/21: Portland, OR – Doug Fir Lounge
6/22: Seattle, WA – Tractor Tavern
6/24: Garden City, ID – Visual Arts Collective
6/25: Salt Lake City, UT – Urban Lounge
6/27: Denver, CO – Bluebird Theater