Remember alt.country? That mongrel cultural mash-up, fueled on a hefty helpings of George Jones and The Clash, that burst into cultural consciousness with Uncle Tupelo's 1990 debut 'No Depression?" Though the style is still heard in many performers in the greater Americana genre the movement proper has the boozy haze of days gone by.
Don't tell the Old 97s this.
For over two decades the indie band that could has crossed the globe many times, hung out with music legends, had loads of positive ink spilled, had their songs featured on television shows and movies, and flirted with mainstream success.
And tonight they looked poised to do it all over again.
Saturday night the Old 97′s played a hometown show with their brand of alt.country, joyously ramshackle performances offsetting sharp songwriting and melodies, is still going strong. On the Majestic Theater stage, blocks from their Deep Ellum origins, the band came to celebrate 'Hitchhike to Rhome,' their 20-year-old debut, by performing it in its 16-song entirety for a full house of adoring fans.
The over two hour show included the aforementioned debut rundown as well as a full set from their recent 'Most Messed Up' tour. Through it all this band of buds, Rhett Miller, Murry Hammond, Ken Bethea, Philip Peeples has endured by focusing on what works.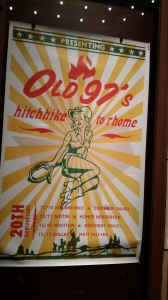 'Hitchhike to Rhome' conjured memories of their 20 years younger selves in the studio with Killbilly guitarist and the album's producer Alan Wooley. "You have to be kind of delusional to start a band." Miller said beaming at the audience that wall shared in that beautiful delusion. As well as memories the songs channeled spirits. Abbey Hoffman and frenetic Loco Gringos frontman Pepe Lopez appeared in 'Desperate Times,' a song a 14 year-old Miller penned after being chosen as an extra for Oliver Stone's 'JFK.' "Miss Molly invoked the spirits of the songwriter Cindy Walker and the father of western swing Bob Wills that made it famous. The spirit of Merle Haggard's 'Mama Tried' with Hammond on vocals. "I grew up with this song and knew it had to be on here." he beamed before tearing into a rousing rendition.
Less etherial people with ties to the songs also were in attendance. Alan Wooley sat in on three songs playing guitar and mandolin on three songs/ The actual Doreen was situated front and center. It was pretty great that right before tearing into the song Miller looked down and said 'are you ready Doreen?' She smiled and mouthed that she was.
Not sure if Mike Schwedler, the former Killbilly drummer who managed the 97′s when they recorded Hitchhike to Rhome now runs the city-owned theater they celebrated in, but it made it more fitting to imagine he was.
In the end we got what we came for, an Old 97s show. Loud, sweaty, vibrant and full of songs with lyrics etched on our brains. They were sang by all at full volume on this night.
The occasion made it all more special, for sure, but in the end they played like their 20 years younger selves. like I remember on the stage of Club DaDa or Clearview. And that was always special.
Here's to 20 more.