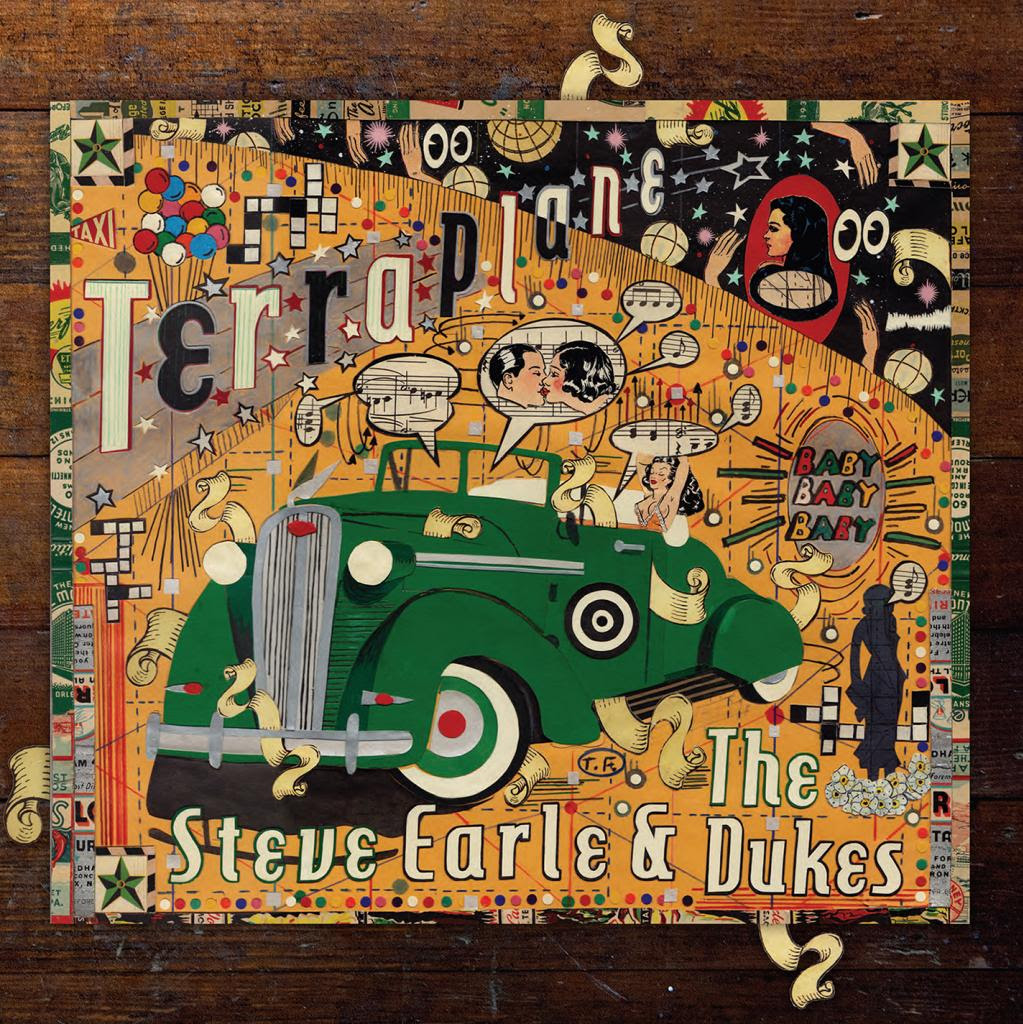 2015 is looking pretty bright roots music people. Steve Earle is again working with the current version of The Dukes – Kelly Looney, Will Rigby, Chris Masterson and Eleanor Whitmore – and will release his 16th studio effort "Terraplane" on February 17th. The album will also feature another great cover by longtime Earle collaborator Tony Fitzpatrick.
Earle will also release his memoir 'I Can't Remember If We Said Goodbye,' published by Grand Central Publishing/Hachette Book Group.
The album follows fellow roots artist like Ray Wylie Hubbard and Lucinda Williams into more blues focused territory.
From the press release:
" 'Terraplane' takes its title from the 1930s Hudson Motor Car Company of Detroit model, which also inspired the Robert Johnson song "Terraplane Blues." … As its title suggests, the album is very much a blues record, a third of which was written while Earle toured Europe alone for five weeks with just a guitar, a mandolin and a backpack. Earle, who was raised outside of San Antonio before migrating to Houston, offers about Texas blues, "There was Fort Worth where the model was Freddy King, and there was the Houston scene which was dominated by Lightnin' Hopkins. Two very different styles." He saw both of these giants, and was also exposed to Johnny Winter, Jimmy and Stevie Ray Vaughn, and Billy Gibbons, all of which make their influence heard here within Earle's masterful storytelling. "
"Earle states in the Terraplane album liner notes, "…the blues are anything but superficial. In fact, they run so deep and dark and close to the bone that folks walk around everyday with the blues as though it were perfectly natural for a human being to go on living with a broken heart (apologies to Tony Kushner)." He continues, "For my part, I've only ever believed two things about the blues: one, that they are very democratic, the commonest of human experience, perhaps the only thing that we all truly share and two, that one day, when it was time, I would make this record." "
The album was produced by R.S. Field (Buddy Guy, John Mayall), engineered by Earle's longtime production partner Ray Kennedy, and recorded at House of Blues Studio D in Nashville, TN.
'Terraplane' will be available as a compact disc, deluxe CD/DVD combo as well as as 180g vinyl. The deluxe version of the album will include 24-bit high-res audio of the album as well as a long-form interview between Earle and acclaimed journalist Mark Jacobson, three live, acoustic songs filmed on the porch of House of Blues Studio D, and a behind-the-scenes short film about the making of the album.
2015 will also see the publication of Earle's memoir 'I Can't Remember If We Said Goodbye,' published by Grand Central Publishing/Hachette Book Group. Earle has been a featured actor on the HBO Original Series "The Wire" and "Treme," and also appears in the upcoming films "The World Made Straight" and "Dixieland." He can be seen in many episodes of the Foo Fighters HBO Original Series "Sonic Highways" and also co-wrote the title track with Marianne Faithfull for her new studio album Give My Love To London.
Steve Earle & The Dukes – Terraplane Track Listing:
1. Baby Baby Baby (Baby)
2. You're The Best Lover That I Ever Had
3. The Tennessee Kid
4. Ain't Nobody's Daddy Now
5. Better Off Alone
6. The Usual Time
7. Go Go Boots Are Back
8. Acquainted With The Wind
9. Baby's Just As Mean As Me
10. Gamblin' Blues
11. King Of The Blues
Earle announced four January residency performances at the City Winery in New York City, where he resides :
January 5 – New York, NY @ City Winery *
January 12 – New York, NY @ City Winery +
January 19 – New York, NY @ City Winery
January 26 – New York, NY @ City Winery
* With Willie Watson
+ With Shawn Colvin