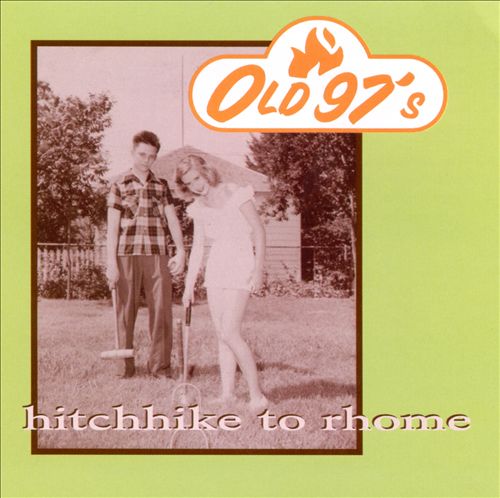 As I previously posted Omnivore Recordings today releases the Old 97's alt.country standard-bearing debut, 'Hitchhike to Rhome.'
Before you head over and get your copy (and you should,) check out the barn-burning (and unsettling) cut "Eyes For You," below. The rave-up was selected by the band and co-producer Ken Bethea for this reissue and shows the boys at their hall-bent finest.
The version was first in Chicago in '95 for Bloodshot Record's "Early Tracks" and as a limited red vinyl edition (1000) 7″ single.
This version was cut in Dallas a year earlier during the original 'Hitchhike to Rhome' sessions, but was not included on it's release.
Buy a few to stuff in those pitifully empty stockings over the fireplace.
CD TRACK LIST:
Disc One
St. Ignatius
504
Drowning In The Days
Miss Molly
Dancing With Tears
4 Leaf Clover
Wish The Worst
Old 97's Theme
Doreen
Hands Off
Mama Tried
Stoned
If My Heart Was A Car
Desperate Times
Ken's Polka Thing
Tupelo County Jail
Disc Two
St. Ignatius (demo cassette version)
Drowning In The Days (demo cassette version)
Making Love With You (demo cassette version)

Stoned (demo cassette version)
Dancing With Tears (demo)*
Ivy (demo)*

Eyes For You*

Crying Drunk*

Victoria*

Old 97's Theme Spgeddi*
Alright By Me*

Desperate Times*
LP TRACK LIST:
Side One
St. Ignatius
504
Drowning In The Days
Miss Molly
Dancing With Tears
Side Two
4 Leaf Clover
Wish The Worst
Old 97's Theme
Tupelo County Jail
Doreen
Hands Off
Side Three
Mama Tried
Stoned

If My Heart Was A Car
Desperate Times
Ken's Polka Thing
Tupelo County Jail
Side Four
Crying Drunk*

Dancing With Tears (demo)
Ivy (demo)*

Victoria*

Eyes For You*
Old 97's Theme Spgeddi*
* Previously unissued
– See more at: http://www.twangnation.com/2014/10/13/omnivore-recordings-to-release-expanded-20th-anniversary-of-old-97s-debut-hitchhike-to-rhome-november-17/#sthash.Wbhq2UGk.dpuf