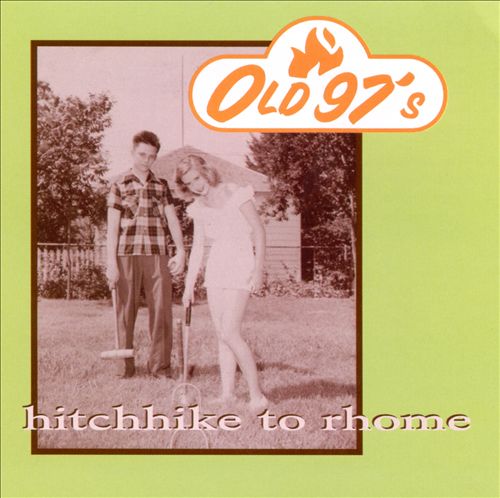 When discussing the pioneers and legacy of the alt.country movement Dallas' Old 97s have to be on the short list of most influential, and enduring, roots rockers to ever till that field.
The band's indy debut, 'Hitchhike to Rhome,' blasted onto the scene in 1994. Already cooked in was the roots-rock with a dash of pop ingredients that has served the band well over their 20-year career. Rhett Miller, already a solo veteran, displayed a deft hand at smart and catchy phrasing on songs like "St. Ignatius," "If My Heart Was a Car," and the album's standout "Stoned," that has made one of the most charismatic, and generous, front men going.
To celebrate the 20th anniversary of 'Hitchhike to Rhome' the excellent Omnivore Recordings continues their support of the Old 97s catalog (they released the 'Too Far To Care' reissue complete with demos (also available separately on vinyl as They Made A Monster), and the band's sessions with Waylon Jennings) by reissuing the album as an expanded 2-CD and digital release. But wait there's more! The album will also be released as on double vinyl LP for the first time with a limited edition first pressing on translucent orange vinyl!
From the presser:
"When band member and set co-producer Ken Bethea was revisiting the original tapes for this reissue, he discovered a treasure trove of eight extra tracks cut at the album sessions — many of which the band hadn't even remembered recording. It seemed the perfect time to bring those previously unissued songs to light and add the tracks from their first four-song demo cassette to round out the early picture of the 97's.
The 2-CD version of Hitchhike To Rhome contains the original album, coupled with a second disc of those 12 rare and unreleased tracks, many mixed from the original multi-tracks for the first time by longtime Old 97's engineer Rip Rowan. The double LP features the LP on three sides with six of the recently unearthed tracks on Side 4. The download card included gives the buyer the complete 2-CD program. Both formats include rare photos, memorabilia and notes from Bethea.
Street date is November 17, 2014.
CD TRACK LIST:
Disc One
St. Ignatius
504
Drowning In The Days
Miss Molly
Dancing With Tears
4 Leaf Clover
Wish The Worst
Old 97's Theme
Doreen
Hands Off
Mama Tried
Stoned
If My Heart Was A Car
Desperate Times
Ken's Polka Thing
Tupelo County Jail
Disc Two
St. Ignatius (demo cassette version)
Drowning In The Days (demo cassette version)
Making Love With You (demo cassette version)

Stoned (demo cassette version)
Dancing With Tears (demo)*
Ivy (demo)*

Eyes For You*

Crying Drunk*

Victoria*

Old 97's Theme Spgeddi*
Alright By Me*

Desperate Times*
LP TRACK LIST:
Side One
St. Ignatius
504
Drowning In The Days
Miss Molly
Dancing With Tears
Side Two
4 Leaf Clover
Wish The Worst
Old 97's Theme
Tupelo County Jail
Doreen
Hands Off
Side Three
Mama Tried
Stoned

If My Heart Was A Car
Desperate Times
Ken's Polka Thing
Tupelo County Jail
Side Four
Crying Drunk*

Dancing With Tears (demo)
Ivy (demo)*

Victoria*

Eyes For You*
Old 97's Theme Spgeddi*
* Previously unissued