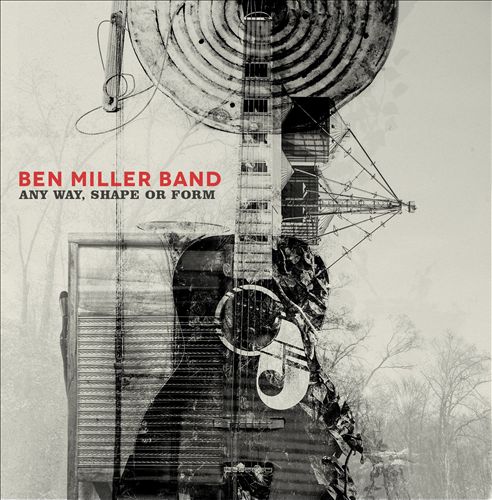 Performers like Konrad Wert (Possessed By Paul James) , Scott H. Biram and Hillstomp have been spectacularly creating Depression era country, bluegrass, folk, gospel, and blues music for years by jolting the dusty form with a furious intensity and emotional directness that would make Marcus Mumford sob into his vintage hanky.
We can now add to that the Joplin, Mo. trio of Ben Miller, Doug Dicharry and Scott Leeper, collectively known as The Ben Miller Band.
Producer Vance Powell ( Wanda Jackson,Buddy Guy, Jack White) is just the right man to steward 'Any Way, Shape or Form,' TBMB's debut for New West records, though the many influences that make up what the band calls "Ozark Stomp" and bring out the band's best effort to date.
Opener "The Outsider" evokes Dock Boggs and split Lip Rayfield as Miller's clawhammer banjo, Dicharry's percussion and Leeper's washtub bass kick up a foggy mountian moshpit accenting by a hot guest slide guitar break by Chad "Gravy" Graves. The spirit of John Lee Hooker is raised in the jump boogie of "You Don't Know" with a nasty little guitar break in the middle, and in the greasy/sleazy 'Hurry Up And Wait" which features Dicharry's blazing washboard work. Things gear down on the melancholy "I Feel for You" which is given a a dreamy quality from the inclusion of Graves pedal steel and Dicharry's mandoline. The inclusion of the vaudeville-jazz ditty "23 Skidoo", a 1920's slang phrase for getting while the getting's good is an odd twist especially when it grows into a dramatic swell. "Burning Building" is an Appalachian-meets-garage rocker that would make Jack White give a pasty smile.
the treatment given to the traditional folk ballad "The Cuckoo." The internal dialogue of the piece occurs in a fever dream of roots-psychedelic, stabbing guitar, musical spoons and furious percussion. "Twinkle Toes," is a jaunty lock-down break-down sing-along featuring blistering dobro. "Life on Wheels" kicks off like a "Whiskey River" remake but quickly breaks another direction as harmonica brings to mind a whining train whistle. "No War," is a lofty Phil Ochs-style topical folk song calling out corruption and ponders the metaphysical.
"Any Way, Shape or Form" is work of considerable scope executed into a whole of rambunctious cohesion. It leaves you wondering what else Ben Miller Band might have up their sleeves.
Official Site | Amazon
| iTunes