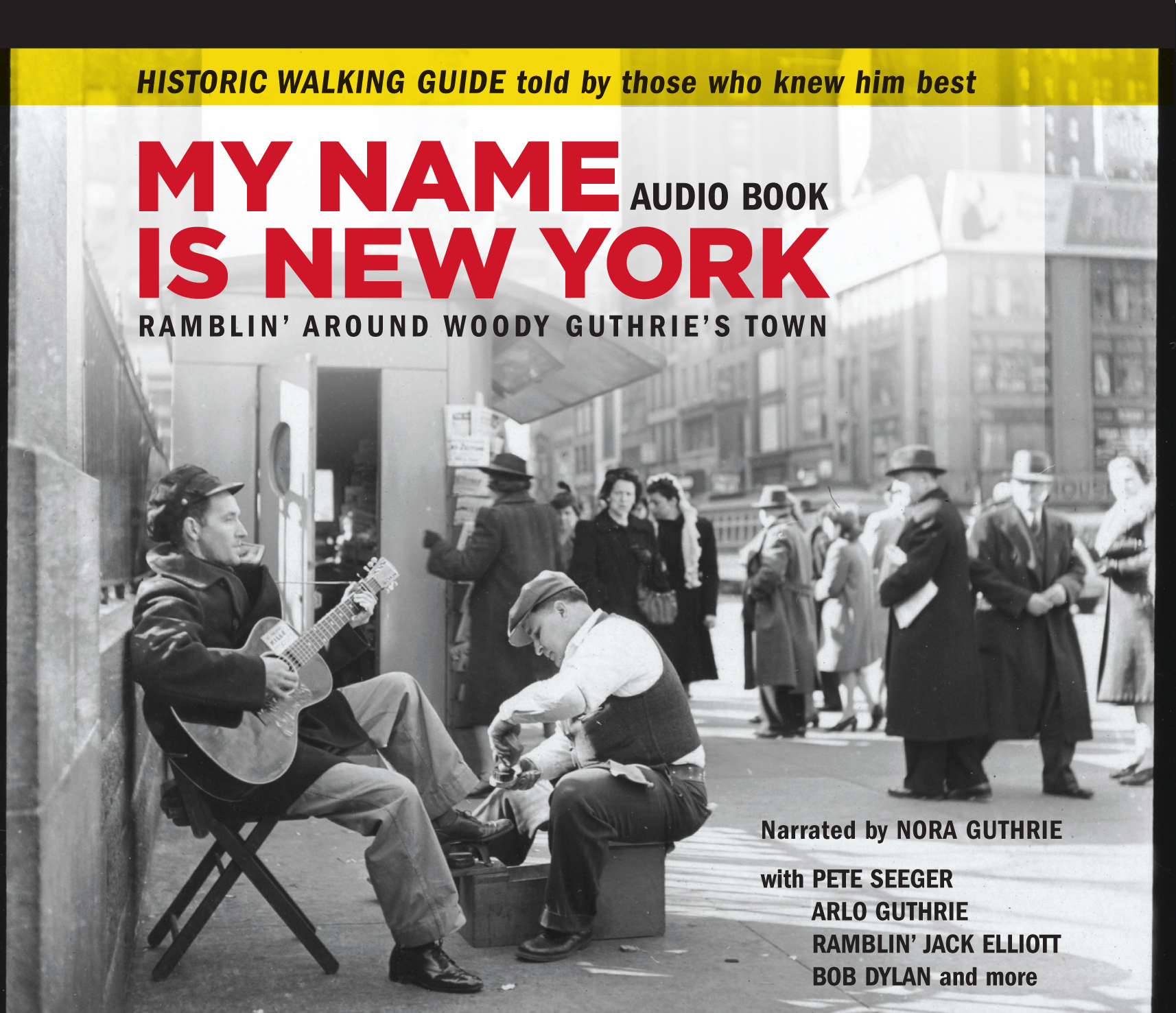 On September 23rd Woody Guthrie Publications will release 'My Name Is New York; Ramblin' Around Woody Guthrie's Town,' a three-disc collection offering an
intimate portrait of Woody's NYC life through storytelling and music. Produced by Steve Rosenthal, Michael Kleff and Woody's daughter Nora Guthrie, 'My
Name is New York' presents two discs of an audio tour and stories that contextualize Woody's New York with new interviews, song snippets and a
history narrated by Nora, plus a third disc of music, including some never heard before.
"Working on this project has been more than just a nostalgic walk down memory lane," Nora says. "It's been a precious adventure, collecting the stories
– and the voices – of my father's NYC friends and family, many of them who are now gone. It's been, at times, both a hilarious and tearful journey. And, just
as for thousands of artists who have migrated here, you can see how New York City was absolutely critical in significantly chiseling my father's destiny."
Featuring new interviews with luminaries like Pete Seeger (in one of his final interviews), Woody's son Arlo Guthrie, and Ramblin' Jack Elliott, as well as
with Woody's many other friends and family, the first two discs take listeners on a virtual tour of the city as Woody experienced it through visits to 19
locations. They include the boarding house on 43rd Street where "This Land Is Your Land" was written; the Greenwich Village apartment that The Almanac
Singers — an all-star folk collective included Guthrie, Seeger, Lead Belly and Josh White – called home; and his home on Coney Island, where Woody
tirelessly composed over 100 songs, and was eventually laid to rest.
The collection also includes a bonus music disc featuring an array of Guthrie's NYC songs, including the first recording of "This Land Is Your Land"; two
previously unreleased home demos he recorded in the city, including the song that gave the set its name and a duet with Sonny Terry; and five premieres of
previously unpublished lyrics from a variety of artists, from contemporaries to younger musicians following in his tradition.
Preorder here.
Below Pete Seeger and Nora Guthrie tell the story of how Guthrie's song "Tom Joad" evolved:
'My Name Is New York' Track List
Disc 1: February 16, 1940 — November 1942
01. 59th Street at 5th Avenue, Manhattan
02. 101 West 43rd Street, Manhattan
03. 57 East 4th Street, Manhattan
04. 31 East 21st Street, Manhattan
05. 5 West 101st Street, Manhattan
06. 70 East 12th Street, Manhattan
07. 130 West 10th Street, Manhattan
08. 430 6th Avenue, Manhattan
09. 148 West 14th Street, Manhattan
10. 647 Hudson Street, Manhattan
Disc 2: December, 1942 — October 3, 1967
01. 74 Charles Street, Manhattan
02. 3815 Atlantic Avenue, Brooklyn
03. 3520 Mermaid Avenue, Brooklyn
04. 49 Murdock Court, Brooklyn
05. 517 East 5th Street, Manhattan
06. Brooklyn State Hospital, 681 Clarkson Avenue, Brooklyn
07. 159-13 85th Street, Queens
08. Creedmore State Hospital, Queens
09. Final Resting Place: Atlantic Ocean, Brooklyn
Music Bonus CD Tracklist
01. "New York Town" (Woody Guthrie/Cisco Houston/Sonny Terry)
02. "New York Trains" (Del McCoury Band)
03. "Union Maid" (Almanac Singers)
04. "My New York City" (Mike + Ruthy)
05. "Tom Joad" (Woody Guthrie)
06. "Man's A Fool" (Woody Guthrie (spoons)/Sonny Terry) home tape
07. "Vigilante Man" (Woody Guthrie)
08. "Union Air in Union Square" (Lowry Hamner)
09. "Round and Round Hitler's Grave" (Almanac Singers)
10. "Jesus Christ" (Woody Guthrie)
11. "Beatitudes" (Reverend Billy & the Stop Shopping Choir)
12. "This Land Is Your Land" (Woody Guthrie)
13. "Go Coney Island, Roll On The Sand" (Demolition String Band)
14. "Howdi Do" (Ramblin' Jack Elliott)
15. "My Name Is New York" (Woody Guthrie) home demo tape
16. "Go Down to the Water" (Billy Bragg & Wilco)