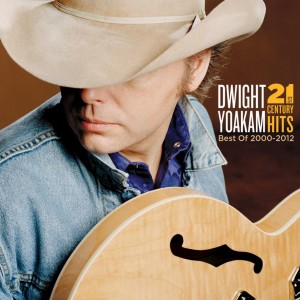 Fresh off his win for the Artist of the Year award win at the 12th Annual Americana Music Honors and Awards in Nashville comes the news of a spanking new Dwight Yoakam compilation.
New West Records will release the new Dwight Yoakam compilation, 21st Century Hits: Best of 2000-12, on October 1. The album spans a choice selection of songs Yoakam recorded while signed to New West Records, Warner Brothers and Koch between 2000-12.
Included are singles from five albums including Tomorrow's Sound Today, Population Me, Blame The Vain, Dwight Sings Buck and 3 Pears as well as the cover the Queen's "Crazy Little Thing Called Love" as featured in the film "The Break-Up." Also included is a never before commercially released duet with Michelle Branch, "Long Goodbye" and the Willie Nelson duet "If Teardrops Were Diamonds."
Even after a three-decade long career, more than 25 million albums worldwide, 12 gold albums and nine platinum or multi-platinum albums and is a 21-time nominated Grammy award winner
Yoakam still appears to be at the top of his game as a standard bearer and trail-blazer.
Buy 21st Century Hits: Best of 2000-2012 (CD+DVD)
DWIGHT YOAKAM'S 21ST CENTURY HITS: BEST OF 2000-12 TRACK LIST
1. The Sad Side Of Town (Tomorrow's Sounds Today)
2. Late Great Golden State (Population Me)
3. The Back Of Your Hand (Population Me)
4. If Teardrops Were Diamonds (with Willie Nelson) (Population Me)
5. Long Goodbye (with Michelle Branch) (Previously Unreleased)
6. Intentional Heartache (Blame The Vain)
7. Blame The Vain (Blame The Vain)
8. I Wanna Love Again (Blame The Vain)
9. Just Passin' Time (Blame The Vain)
10. Crazy Little Thing Called Love (The Break-Up Soundtrack)
11. Close Up The Honky Tonks (Dwight Sings Buck)
12. My Heart Skips A Beat (Dwight Sings Buck)
13. Act Naturally (Dwight Sings Buck)
14. A Heart Like Mine (3 Pears)
Bonus DVD
1. Close Up The Honky Tonks
2. Intentional Heartache
3. Blame The Vain
4. Back of Your Hand
5. Late Great Golden State
* Bonus DVD also contains hi-res 24/96 audio playback of the album