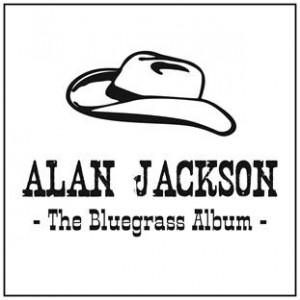 Country music legend Alan Jackson might have spent the 90's in the shadow of Garth Corp. But he's done far more in his career to preserve the legacy of great country music.
On September 24 Jackson will release the album he's hinted at for years. Alan Jackson will release his first bluegrass album – appropriately titled The Bluegrass Album. Jackson wrote eight songs for the album, which also includes other originals and a couple of well-known standards of the genre – include The Dillards' "There Is A Time," John Anderson's "Wild and Blue" and a ¾-time version of Bill Monroe's seminal "Blue Moon of Kentucky."
The Bluegrass Album will be released on ACR (Alan's Country Records)/EMI Records Nashville and is produced by Keith Stegall and Jackson's nephew, Adam Wright.
The album featured some of the best players and singers in bluegrass, Scott Coney (acoustic guitar), Sammy Shelor (banjo), Adam Steffey (mandolin), Tim Crouch (fiddle), Tim Dishman (bass), Rob Ickes (dobro) and Ronnie Bowman and Don Rigsby (vocals). The performers came together, emerging in a matter of days with the completed acoustic album.
The Bluegrass Album track listing:
1.) Long Hard Road – Alan Jackson
2.) Mary – Alan Jackson
3.) Appalachian Mountain Girl – Alan Jackson
4.) Tie Me Down – Alan Jackson
5.) Way Beyond The Blue – Mark D. Sanders/Randy Albright/Lisa Silver
6.) Ain't Got Trouble Now – Adam Wright
7.) Blue Ridge Mountain Song – Alan Jackson
8.) Blacktop – Alan Jackson
9.) Blue Side of Heaven – Alan Jackson
10.) There Is A Time – Rodney Dillard/Mitch Jayne
11.) Wild and Blue – John Scott Sherrill
12.) Knew All Along – Adam Wright/Shannon Wright
13.) Let's Get Back to Me and You – Alan Jackson
14.) Blue Moon of Kentucky – Bill Monroe