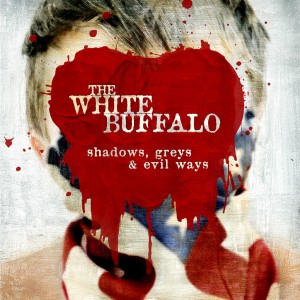 On September 10, The White Buffalo (AKA L.A.-based roots artist Jake Smith) will releases his 6th studio release 'Shadows, Greys, and Evil Ways' (Unison Music Group). The release appears to be a theme album according to the press release states that "these 14 songs trace the life story of Joey White, a small town outsider who goes to war and returns home only to find more violence as he struggles to readjust to a life away from the front lines and reconcile with the girl he left behind."
"I look at the whole thing as a love story," says Smith. "The beginning is their meeting, and because of his need and want to support her, he goes off to war, which starts his downward spiral."
Recorded at LA's Unison Music Studios and produced by the Grammy-nominated team of Bruce Witkin and Ryan Dorn, 'Shadows, Greys, and Evil Ways' sees the core trio of Jake Smith, bassist Tom Andrews, and drummer Matt Lynott joined by the likes of drumming legend Jim Keltner on "Don't You Want It" and ex-Jayhawk Jessy Greene.
Listen to the new boisterous cut, "Joey White," below.
The White Buffalo hits the road this summer including shows in NYC (8/4), Philadelphia (8/6), and DC (8/7). More dates to be announced soon.