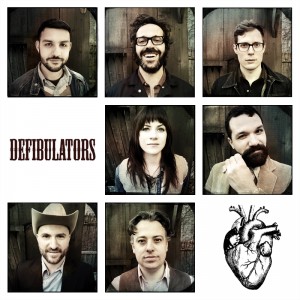 The time I spent living in New york taught me some things. One, New Yorkers aren't rude they just don't have time for your dumb ass, and New York has is a great market for roots music.
Brooklyn's The Defibulators have been creating tunes some time and garnering a lot of praise by mashing their throwback honky-tonk with frenetic bent. Think of them as the perfect soundtrack for a family picnic, or a meth lab. Yes that's a compliment.
Their upcoming ssophomore album "Debt'll Get'em" (August 27) was recorded in Woodstock, NY, at The Isokon with D. James Goodwin and Eli Walker, and Sunset Park, Brooklyn, at Motherbrain with co-producer Brian Bender (Langhorne Slim, Jose James), 'Debt'll Get'em' is a 10-track and if the below tunes are typical i look forward to an amped-up take on classic country classic.
The video for "Cackalacky," directed by Alexis Boling, follows a hayseed as he finds his way in the big city looking for music success.And "Pay For That Money" is a sassy swagger of a song about fiscal responsibility and moral comeuppance.
Kick back and enjoy the ride, pilgrim.