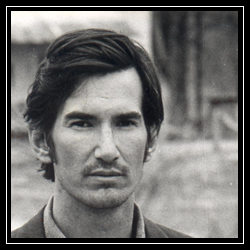 The first time I heard the name Townes Van Zandt my Uncle Tony mentioned playing a gig with him at a private party on the Tohajiilee Indian Reservationa in New Mexico. He described how he would watch him from the side of the stage and captivate them with his lyricism and picking style cribbed from fellow Texas Lightin' Hopkins and charm them with his wit. he also described drinking so many Bloody Mary's with Townes at an airport bar that they missed their flight out of there.
in many ways Townes Van Zadnt and Gram Parsons were brothers of the faith. Both men where born to families of means and walked away from an easy life of leisure to forge an uneasy path toward their musical vision. Greatness was attained but, like Icarus, the beckoning sun of substance abuse and the open road took them both too soon leaving a legacy felt to this day.
One of my favorite Townes stories is when he met Bob Dylan. Dylan was reportedly a "big fan" of Townes and claimed to have all of his records; Van Zandt admired Dylan's songs, but didn't care for his celebrity. The two first met during a chance encounter outside a costume shop in the South Congress district of Austin, Texas, on June 21, 1986. According to Johnny Guess, Dylan later arranged another meeting with the songwriter. 6th street in Austin was shut down due to Dylan being in town; Van Zandt drove his motor home to the cordoned-off area, after which Dylan boarded the vehicle and requested to hear him play several songs. During this time Townes reportedly turned down a songwriting invitation by Dylan.
I'm sure Townes is looking down and wondering what all the damn fuss is about. Bless him.