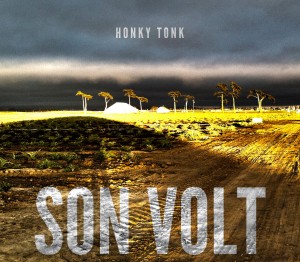 From the ashes of one of the pivotal harbingers of the late 80's alt.country movement, Uncle Tupelo, Jay Farrar's Son Volt has continued to carry the torch of classic country and rock music for seven albums now. Each album blending, progressing, and sometime faltering, but always staying true to course. This time around, Farrar seems content to ease off of the rock influence and focus in classic country nuance. Picking up the pedal steel in his spare time he's uses ot deftly spanning 11 songs that display economy (clocking in at just over 36 minutes) as well as expansiveness in influence.
This incarnation of Son Volt appears well suited to provide the Honky Tonk of the album title and theme. The band sets a welcome tone with the 3/4 Waltz of "Hearts and Minds." Brick Walls is straight from the Lefty Frizzell book of song-craft and heartache. The nightlife lament of "Wild Side" is Farrar's subtler and more tender take on a theme Hank Thompson tackled with "Wild Side Of Life."
"Every road is a story to tell, of dreams that have soared and dreams that have fell." starts off the lovely Celtic-tinged "Down the Highway" that blends the road with life, or perhaps it's all just life on the road. "Bakersfield" flirts with jukebox fair to compel a dust-bowl migrant to drop a dime to hear it. Languidly paced atmospheric and shimmery electric guitars makes Angel of the Blues' and "Shine On" gives the album a contemporary conclusion.
Honky Tonk doesn't slap you in the face with some aural revelation. it's not a furious album or one trying to prove itself. It lays it out and really couldn't care what the world thinks. That's the beauty in it. There is no overt commercial aspirations, just love of music and a celebration of it's timeless nature. Farrar has always been true to his vision never chasing stylistic trends to broaden his demographic appeal. He's cultivated and harvesting country music gold throughout his career and with the excellent Honky Tonk, he sounds right at home.