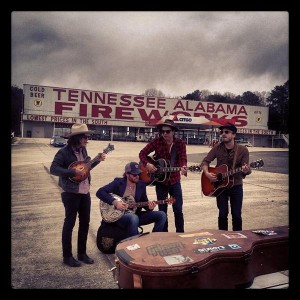 Sometimes hype is deserved. Nashville by way of Austin band The Wild Feathers have been all over my Facebook feed for the last few weeks and for that reason I've avoided them like a friend s request from Blake Shelton. Then people I respect started to "like " them. I folded and gave 'em a listen. I'm glade I did.
Ricky Young, Joel King, Taylor Burns and Preston Wimberly fuse their influences –
Petty, Dylan, Cash, The Band, Allman Bros, Neil Young and Willie Nelson – into a taunt and furious sound. This has been galvanized by a heavy touring scheduled that has landed them alongside Delta Spirit, Surfer Blood and The Heavy, and even an opening spot on Paul Simon's 2011 fall tour.
the videos, both directed by Gus Black, prove the broad range of the band. "Backwoods Company" proves the band's live heat and offers a menacing Southern outlaw theme reminiscent of early Drive-By Truckers.
"The Ceiling" has a mellower, front-porch ramble that swells into a Mumford & Sons-style song-a-long chorus tailor made for audience participation.
If they stay consistent the The Wild Feathers could be Americana and roots music's next breakout band. We'll know more when their Interscope comes out later this year.
SXSW goers check out the band at the Nikon Warner Sound Showcase at SXSW on March 14.
Pick up both cuts for an email address at thewildfeathers.com