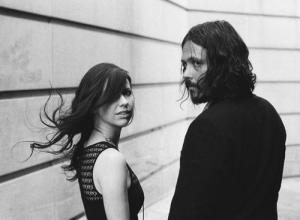 Paste magazine reports that The Civil Wars are set to appear on the soundtrack for the forthcoming film, A Place at the Table. the folk is a documentary from Food, Inc. producers that explores American food and hunger issues. The soundtrack will feature 14 new and original tracks from The Civil Wars and T Bone Burnett is set for a Feb. 26 release through Sensibility Music.
"We met T Bone in New York City at the Americana Awards nomination announcements a couple of years ago," John Paul White said in a press release. "Turns out Rosanne Cash, the sweetheart, had turned him onto the music. He expressed a desire to work together, which was quickly reciprocated."
The documentary is set for a March 1 release and the band and Burnett are offering 100 percent of the label's net profits and producer/artist royalties to the Participant Foundation, an organization that "exists to support programs that support a sustainable and peaceful world."
"Being a part of A Place At The Table opened my eyes to an epidemic that is happening in our country right now—underneath many of our noses," Joy Williams said. "It's happening to our neighbors, to our friends, to children. It's a silent battle that can be won, if we as a nation set our minds to ending it. Linking arms with T Bone Burnett to create music for such a timely and important film as this was an honor."
The band released a rousing new single from the soundtrack today, titled "Long Time Gone." Take a listen in the player below.
As previously reported, The Civil Wars unexpectedly canceled their tour let year citing the reason as "internal discord and irreconcilable differences of ambition" as a touring entity. Many speculated this meant a break-up for the band, but these new studio tracks might make that prediction premature.
Many speculated this meant a break-up for the band, and these new studio tracks could prove otherwise. Though their lack of amicability on the stage Sunday, to receive their Grammy for the song "Safe & Sound," with Taylor Swift and T Bone, might signal otherwise.