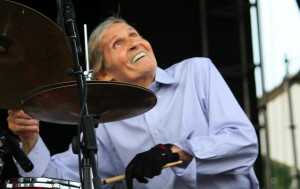 The famed Midnight Ramble will roll into L.A. on Sunday night as Elton John** and Mumford & Sons appear on the Grammy stage to lead a tribute to the late music great Levon Helm, The Associated Press reports.
As part of the awards show's in memorial tribute, John and Mumford & Sons will be joined by T Bone Burnett, Brittany Howard of Alabama Shakes, Zac Brown and Americana Album of the Year winner Mavis Staples for a special performance of the Band's "The Weight.
"Can you think of a song that fits (more)?" said Ken Ehrlich, producer of the Grammy Awards. "Philosophically it fits the moment."
The Band's 1968 debut, "Music From Big Pink," and its follow-up, "The Band," remain landmark albums and count as the vanguards for the Americana movement. Songs such as "The Weight" and "Cripple Creek" have become rock standards. Early on, The Band backed Bob Dylan on his sensational and controversial electric tours of 1965-66 and collaborated with him on the legendary "The Basement Tapes."
Elton John has a long history with Helm and counted him as a close friend. John and his writing partner Bernie Taupin, wrote the song "Levon", who's title character was inspired by The Band's co-founder, drummer, and singer. The Band was apparently Elton John's and Taupin's favorite group at the time. Their sound inspired John and Taupin to create the albums Tumbleweed Connection and Honky Château.
Elton John and his civil partner, David Furnish, named their son "Zachary Jackson Levon Furnish-John."
Helm, singer and drummer for The Band, died on April 19th in New York of throat cancer. He was 71. Mumford & Sons are up for four awards at this Sunday's Grammys, including Album of the Year for Babel. Alabama Shakes are up for two awards, including Best New Artist. Zac Brown Band is up for Best Country album for Uncaged.
Are these the performers I would have chosen for a Helm tribute? Probably not. But the sentiment is genuine and I'm sure that the performances will be heartfelt.
Tune in to the 55th Grammys airing this Sunday on CBS.