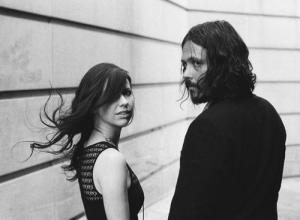 The rumblings started several days ago. While on a well-reviewed UK leg of their current tour the news of cancellations of upcoming shows in Michigan, Florida and 2013 tour dates of Australia & New Zealand were announced. Emails for details were not returned.
Then today the other show dropped. From The Civil Wars official Facebook and Twitter account:
"We sincerely apologize for the canceling of all of our tour dates. It is something we deeply regret. However, due to internal discord (SP) and irreconcilable differences of ambition we are unable to continue as a touring entity at this time. We thank each and every one of you for your amazing love & support. Our sincere hope is to have new music for you in 2013.

– Joy Williams & John Paul White."
After seeing them recently at the Hardly Strictly Bluegrass Festival and watching their set stream from the Austin City Limits Festival there was no sign of tension or discord.  On the contrary, Nashville vets  Joy Williams and John Paul White appeared outwardly to be having the time of their lives. Working with T Bone Burnett and Taylor Swift on the Hunger Games soundtrack,  a pair of Grammys and an Americana Music Association award for Duo/Group of the Year, a gold album and new album underway and some of the biggest audiences in their young career it was easy to see why.  Last week the couple released a cover of "I Heard the Bells on Christmas Day," as part of a Holidays Rule compilation also featuring Paul McCartney and others. The tipping point for super stardom for the duo was now. It must have been something serious to tip things the other way.
For a couple of performers of songs of love and heartache that so many people assumed were a romantically involved couple the ending comes off as a bitter break up.
The end of groups are almost never permanent and the wording of the statement alludes to only touring and "…to have new music for you in 2013." The tone of the announcement is certainly gives hope for future collaboration.
The reason for the halt to the tour might be that new mother Joy Williams simply wanted to be with her husband Nate Yetton, the duo's manager, and their only son Miles Alexander which was born last Summer.  But this is just speculation.
I have always championed The Civil Wars as a shining light of the commercially desirable wing of the Americana brand that did not have to compromise their talent to gain that mass acceptance.  Here's to a quick respite for this excellent band.
http://www.youtube.com/watch?v=iDlGq1wxLRg