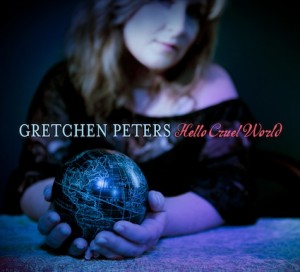 I became aware of Gretchen Peters when I heard One to the Heart, One to the Head , a covers album she released with one of my favorite singer/songwriters Tom Russell. I was impressed by their take on many great country-folk songs, from Bob Dylan to Townes Van Zandt, and Peters' smoky vocals contrasting with Russell's dusty growl.
While reviewing the album I became aware of Peters' past life as a New York-born, Nashville-based songwriter for Music City country, pop and soul. Martina McBride, Trisha Yearwood, Patty Loveless, George Strait, Neil Diamond and the late Etta James She also won the 1995 Country Music Association Song Of The Year award and turned some heads with her unflinching view of a woman's domestic abuse with McBride's Independence Day.
These song-craft skills, and the courage that maturity affords you to speak fearlessly, have resulted in Gretchen Peters'New release of darkly engaging Americana-pop Hello Cruel World. Recent trials and revelations in her life provide fertile soil for an collection of songs that look into the abyss and dares to laugh. Dares to love.  What could have been a very bleak album transforms brutality, indifference and the absurdity of life into jagged gems that makes you want to sing along and occasionally tap a toe. Peters co-produces along with husband Barry Walsh and Doug Lancio. they use sparse arrangements and atmosphere that made One to the Heart, One to the Head such a pleasure.
The self-titled opener is a moody study of contrast and personal perseverance. "I'm not dead but I'm damaged goods, and it's getting late." Followed by a chorus of "I'm a very lucky girl" sung with beautifully weary resignation backed by minor-chord strings. St. Francis was  inspired by the Gulf oil spill and co-written by Tom Russell, who often employs Catholic symbols and analogies to make corporeal points. The song engages St. Francis of Assisi to show how the divine is often overlooked or, when recognized, taken for granted.
Torn allegiances dominate The Matador as the thrill and drama of a bull ring serves as a metaphor for passion and conflict. Ordained minister Rodney Corwell performed the matrimonial ceremony for Peters' and Walsh in 2010, on Dark Angel, Corwell plays the foil of love in  a tale of dangerous attraction and certain demise. Camille shares co-writing credits with Peters' "Wine, Women, and Song" members Matraca Berg and Suzy Bogguss, is smoky loneliness and sweet despair shepherded by trumpet and barroom piano. Paradise Found has a hot summer day simmer that references Steinbeck and a play on Milton where the song derives it's title.
From the Stevie Nicks-like album cover Peters stares at you from the dusky cool-colored cover with an orb that looks like a globe or a crystal ball. It serves as both metaphors here. These are adult songs about adult situations that in lesser hands would result in a very dull listening. In Peter's hands poetry and the profane is balanced in a way that reminds us we are not alone and that beauty and hope, as well as songwriting that engages instead of panders,  still exists.