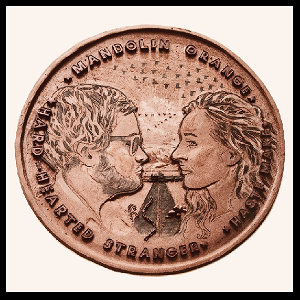 This is not typically the kind of music that floats my boat. Most Americana that works the folkie singer/songwriter side of the fence leaves me cold. To me like it's more commercially lucrative cousin pop-country; a watered down version of a powerful source who's soul was sold long, long ago. Like corporate beer and steak chain restaurants something wonderful went terribly wrong while bringing something to the masses. And even though folk never sells in Music City numbers the brunch-folk styling of Jack Johnson and M Ward have led to a relatively wide audience and financial independence for the artists.
But sometimes a performer reminds us of what once was. Dylan did this. So did Townes Van Zandt. The Chapel Hill, NC duo of Andrew Marlin (guitar, mandolin, harmonica)  and Emily Frantz (violin/fiddle, guitar, vocals), collectively known as Mandolin Orange, draw from a deeper well than those others to craft their songs and sound. Like Welch and Rawlings or Parsons and Harris there is a reverence for history while charting new sonic landscapes.
There is subtlety in the arraignments. Songs like No Weight and Runnin' Red would make perfect living room performance faire for a polite audience. But  like a trace of arsenic after a sip of fine whiskey or a Smith & Wesson hammer clicking back under a table set for a romantic dinner there something  menacing just below the surface.
From the excellent Runnin' Red "The waters runnin' red tonight, and our bridge is burnin' hot, we parted ways in the middle, now we gaze from each side" and the Van Zandt-like Clover "You used to live untruly, so kindly, and it left you lying here in ruin, you cut the hand of a good friend and you smiled in all your doing."
This is not music made to be pretty, but pretty music made to be honest.
To ratchet the burden even higher Mandolin Orange has crafted 18 consistently excellent songs across two disks,  individually titled Haste Make / Hard Hearted Stranger. There may be a thematic difference between the two but I can't discern between them. The albums sweeps past you like memories of a whiskey-fueled Saturday night or the landscape from the window of a speeding 18-wheeler. They shift and blur into a singular whole that surprises you when it ends. It surprised me even more that after 18 songs I still wanted more.