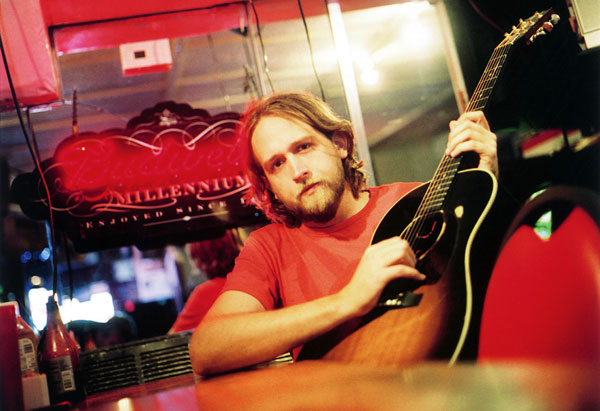 The first thing I noticed about the near capacity crowd at Slims was the lack of Pabst Blue Ribbon tall boys. The brew de rigueur of the skinny jeans and tattoo set has been a main staple for big city shows of the twang variety since I first saw the Drive-By Truckers in New York City in 2006, but the cheap suds were nowhere to be seen. There was the occasional Bud light, local micro-brew (served in plastic cups as not to be too fancy)  and whisky neat but the ubiquitous PBR was oddly out of place. The crowd also skewed older and working stiffs decked out in the pro-shops finest with their blond wives were mixed with a few that looked like extras from HBO's Deadwood. This was not the hoody and cap set herding to a scene, these people were here for great music.
With a voice pitched somewhere South of Dylan and north of Kris Kristofferson Carll began he show surprisingly with the tearjerker Chances Are but the crowd stayed quiet and ate it up. We were then rewarded with the long-haired honky-tonk road song Hard Out Here. things were less quiet with the "Hell yeahs" and "Yee -haws."
Carll was in town supporting is excellent new release KMAG YOYO which is an Army acronym for Kiss My Ass, Guys, You're On Your Own,. He introduced the song as a "Young soldier in Afghanistan, then get's into the heroin trade and is then injured by an IED. In a morphine induced hallucination imagines he's working for a secret Pentagon program that feeds you acid and send you in space. Look for it on country radio!" The song is a (fast) talking blues number in the spirit of Dylan's Subterranean Homesick Blues or Johnny Cash's I've Been Everywhere and it drove the crowd into a frenzy.
About 30 minutes into the set shots of tequila was delivered to the stage. "We played L.A. the other night and not one drink was bough for us. Here we are 37 minuted in the set and we have shots. Thanks San Francisco!" Four more rounds of drinks followed.
Carll took the time to praise the legendary Texas singer/songwriter Ray Wylie Hubbard and explained how when they met to write a song together that Hubbard was in his phase of using animals as subject matter to great success with the song Snake Farm, which Carll sang the chorus of with a surprisingly simpatico crowd. He said they wrote a song called Chickens but had overestimated the poultry-folk movement of 2006. Carll then sang a song he and Hubbard wrote, and was released on Carll's Trouble in Mind and Hubbard's lengthily titled A. Enlightenment B. Endarkenment (Hint: There Is No C). With lines like "There's some money on the table and a pistol on the floor. Some old paper back books of Louis L'Amour…" It's a natural and perfect result from a a Carll/Hubbard collaboration.
There was also a song from a Carll collaboration with Bobby Bare Jr. and Corb Lund entitled One Bed, Two Girls and Three Bottles of Wine about a Southern California tryst gone limp. The song has a honky-tonk heart of the absurd found in the best Roger Miller or Shel Silverstein numbers.
After about two hours of great song after next Carll and his sizzling band who moved through every instrument  but bag pipes, encored with a rousing version of the Possum's White Lightning which was a great chaser from a musician cast in the same dry-witted and tuneful mold as Guy Clark and Terry Allen.